The dreamy combination of bananas and smooth caramel filled into a pastry pie crust. A delicious and decadent treat!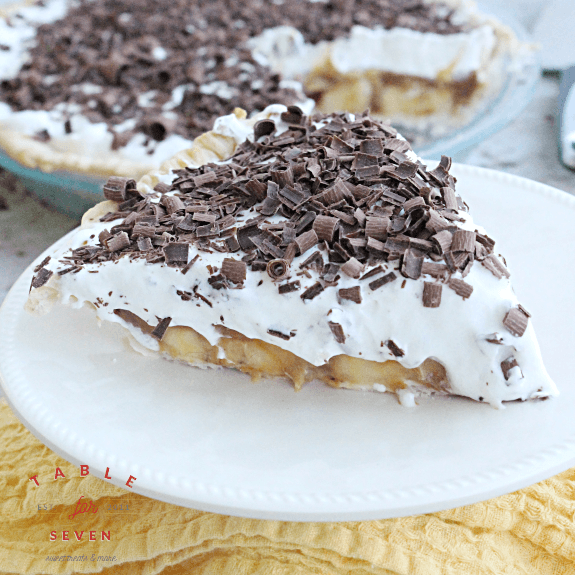 It's Monday! Are you ready for a new week?
Our week is a busy one. Kids have some homeschooling classes and library events. My husband does have a short work week, but, has gone back to school himself.
It's online, but, still, lots of additional work for him. We are also dog sitting for my sister's lovely pooch. Oh and it's suppose to rain all week?!
Yes, rain. Not snow. It's January and I live in the Midwestern part of the U.S. Snow is more the common place. The weather has been funky. Mild enough for rain, but, then, the temps plummet and everything freezes. Making for lots of ice and tense driving on some roads around my area. Not terribly fun. 🙁
Pie is the answer to making this week go off without a hitch. Well, maybe not the answer.
But, it could help!
One of my favorite pies here on the blog is the Salted Caramel ( soooo good, you must try!). This is similar to that, but, has a few differences. This one, I took a few shortcuts 🙂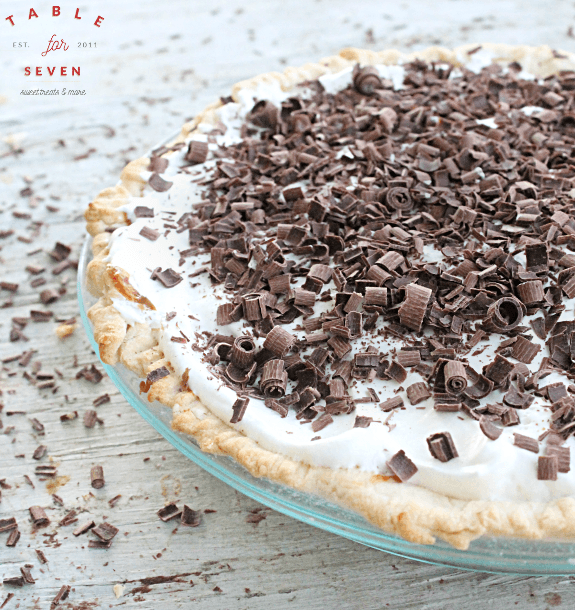 Here is a a breakdown:
The crust. I used a basic refrigerator store bought pie crust. You can use your favorite homemade pie crust for this too, but, if you want to just buy one, go for it.
Second, the bananas. Slice them and layer on the bottom of your baked, cooled, pie crust. Don't forget to top them with the lemon juice. It will help prevent them from browning.
Next, my personal favorite, the caramel. I used a little less than the Salted Caramel Pie, but still the same amazing taste. Microwaving it (not in the can!) makes it easier to work with. Pour it on top of your sliced bananas.
For the topping: For the Salted Caramel pie, it's fresh whipped cream. This one is topped with whipped topping. If you wish to make fresh whipped cream, it will be fine too. Start with 1 cup of whipping cream and beat it with 1 TBSP of powdered sugar until firm.
Finally, I topped this one with lots of shaved/curled chocolate. This is optional, but, does add another amazing flavor to the pie, plus, it looks pretty! I took my vegetable/potato peeler and simply shaved a semi sweet chocolate baking bar to make the chocolate pieces. Feel free to make more/less of just chop a bar or chocolate chips to get the flavor there. You could also just sprinkle with mini chocolate chips. Whatever works for you.
This Banana Caramel Pie is a really easy pie with loads of flavor.
Just one last note..this is a sweet tasting pie, so, you may want to keep your portions on the smaller side.
Enjoy!