Soft doughnuts with the amazing taste of banana bread! Topping them off with creamy Nutella adds just the right amount of chocolate to make them even better.
Ah..bananas. 🍌 🍌 🍌
They are sorta an annoying fruit, aren't they? Maybe not annoying, but, not very practical. At least, at my house they aren't.
I buy them, because, my kids say 'don't forget bananas' when the grocery list is being made. So, I buy them. Two get eaten. One is split between my 6 year old and 3 year old. The other is eaten by myself. Usually, because, I don't want to waste them.
Then..they sit.
What to do with them? I've made bread, cookies, brownies, cupcakes, pancakes…so many banana recipes.
Not one doughnut though..until now!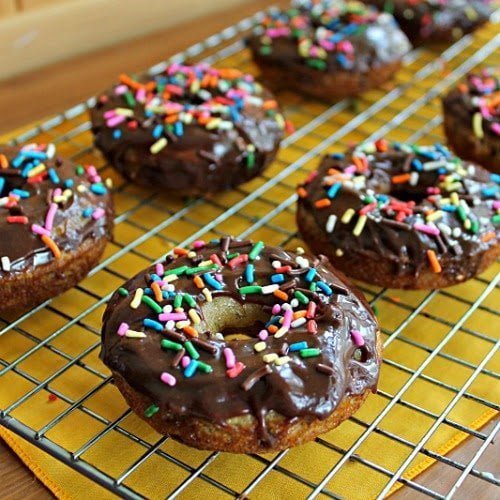 You need to really try these my friends. They are delicious, little banana delights topped off with a seriously sinful Nutella glaze. Plus, sprinkles, that are purely for fun. 😉
Banana Bread Doughnuts: A delicious way to make bananas a little more practical.