The classic pasta baked up in a cheesy casserole. Perfect for a quick, weeknight dinner!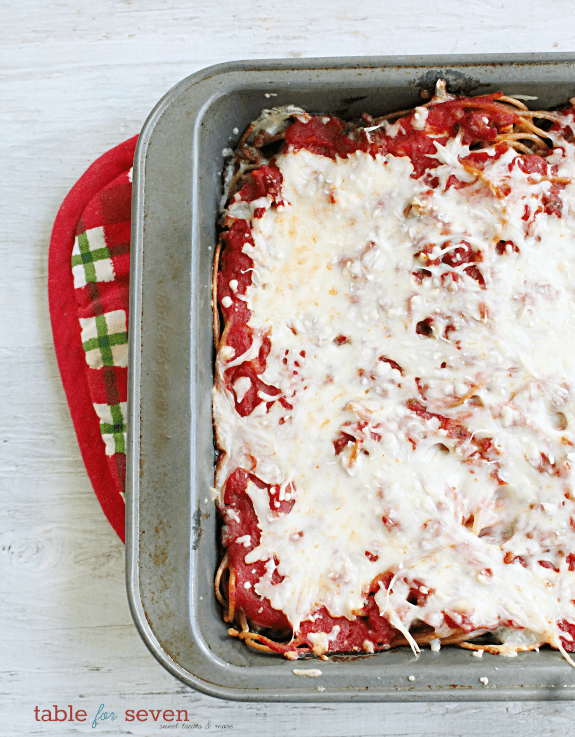 This is a very quick and easy oven dish for a weekly dinner. It is super cheesy and my kids (and me!) love it. It's a great to change up regular ole' spaghetti every once in a while.
Ingredients Needed:
Spaghetti noodles
Egg
Mozzarella cheese
Parmesan cheese
Spaghetti sauce
Italian sausage
Spaghetti Noodles: You will need approx 4 cups of cooked noodles. This is about an 8 oz package of dried noodles. Regular or whole wheat will both work.
Tip: This recipe is a great way to make use of any leftover cooked spaghetti you have sitting in your refrigerator.
Italian Sausage: You can replace the sausage with ground beef, ground turkey, ground chicken or a plant based crumble. You can also leave it out completely.
Spaghetti Sauce: Want to Make it Homemade? It's easy!
How to Make:
Prepare dry pasta and Italian sausage. Drain them both. Don't forget: Rinse the cooked pasta under cold water.
Next, in a mixing bowl, toss together cooked spaghetti, the egg, a portion of the mozzarella cheese and the Parmesan cheese.
Spread it on the bottom of a greased baking dish.
Then, sprinkle the top of that with the cooked ( and drained) sausage. Spread the top of that with the spaghetti sauce.
Finally, top it off with the remaining mozzarella cheese.
Bake!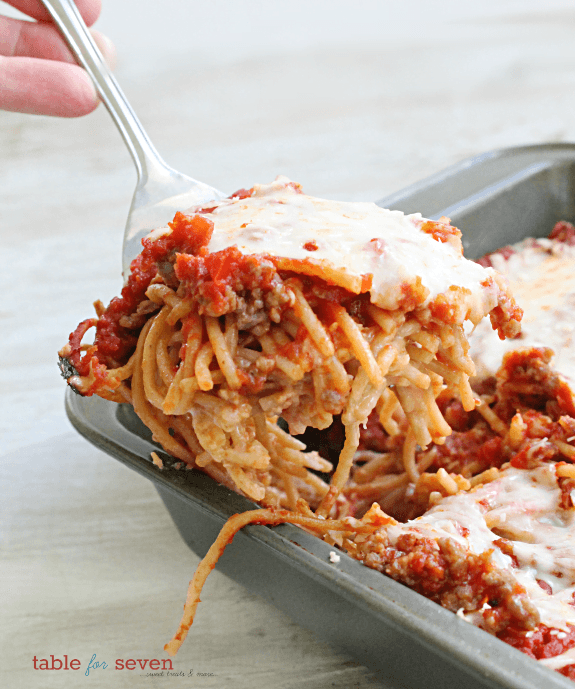 A few tips:
Double the recipe and split into two 8 inch pans. Cover and freeze the second pan and have it on a later date. Defrost and uncover before baking in the oven.
Instead of crumbled meat, top with favorite cooked meatballs.
Add in chopped peppers, mushrooms,spinach or whatever your favorite veggies are.
It's easily prepped beforehand. Make up the dish in the morning, cover and stick in your refrigerator until dinnertime. Just be sure to uncover before baking.
Try These Too: