Forget the fast food version! Make healthier chicken nuggets homemade.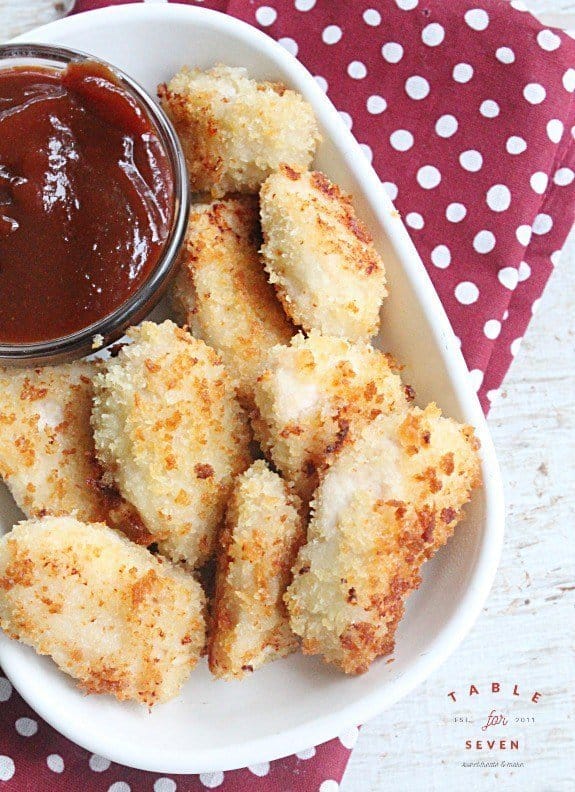 Ingredients Needed:
Boneless chicken breasts
Olive oil
Panko breadcrumbs
Grated Parmesan cheese
Dry Italian seasoning
Salt/Pepper
Chicken: I used 1.25 lbs of boneless chicken breasts. This should be approx 3-4 medium size breasts.
Olive oil: My preference is olive oil, but, canola, vegetable or sunflower will all work. Stick with a neutral tasting oil, for best results.
How to Make:
First, line a large flat rimmed baking sheet with foil. Then, spray the foil with non stick cooking spray and preheat your oven.
Next, cut your chicken breasts into bite size pieces/cubes. They should be about 1 inch in size.
Mix together breadcrumbs, cheese and dry seasonings.
Then, take each piece of chicken and coat it in the olive oil. Once it's coated with the oil, coat it in the breadcrumbs/cheese mixture.
Repeat with each piece of chicken and place them on prepared baking sheet. Spray the chicken with non stick cooking spray.
Bake em'.
Storage: Keep any leftovers in a covered container in the refrigerator. They are best if they are eaten within 2-3 days. If desired, you can freeze baked nuggets. Be sure they are in a freezer safe, covered container or storage bag. They will be good for 2-3 months.
Dipping Sauce Options: