The incredibly delectable bagel sandwich recipes that are provided here will cause you to consider the baked item in a whole new (and delectable!) light.
There are over 20 different recipes in this article that will satiate your desire for snacks and will have you daydreaming about eating bagels for breakfast, lunch, and dinner.
Best Bagel Sandwich Recipe
Breakfast on the go has never been easier than with these bagel egg boats, which can be customized with any toppings you choose.
Toast the bagel halves that have been hollowed out in a toaster. Follow the instructions for filling with the cheese and egg mixture. Transfer to a plate that is safe for the microwave, and cook on high for approximately one minute, or until the eggs have set. Include the chopped herbs and sauce of your choice (if using).
At our house, breakfast sandwiches are a favorite, and these nutritious breakfast sandwiches that can be frozen are the ones that really strike the spot. I begin with Thomas' Light Multi-Grain English Muffins, then layer on naturally lean Canadian bacon, ultra thin sliced cheddar, and a whole egg. Finally, I top it off with a toasted multi-grain English muffin.
Before putting the breakfast sandwich in the freezer, assemble it by spreading cheese on the first slice of English muffin, then layering on Canadian bacon, followed by an egg, and finishing with the second slice of English muffin. Reheating the egg in this manner will prevent the cheese from falling off of the egg.
This Peameal Bacon Sandwich is the most delicious breakfast sandwich you will ever eat! It has Canadian bacon that has been caramelized in real maple syrup, an egg, cheese, avocado, and mayonnaise on top of it, and it sounds delicious. Do I even need to continue?
In order to reach a level of healthiness that is appropriate for consumption, peameal bacon must reach an internal temperature of 145 degrees Fahrenheit.
Everything Small nuggets of ecstasy packed with molten cream cheese, Bagel Bites will have you humming love songs until the end of time if you indulge in them. You won't be able to limit yourself to just one because of their bite-size and the fact that they are the ideal combination of carbs and cheese.
These are best consumed when still warm. You can absolutely enjoy it at room temperature; the only difference is that the cream cheese won't be melted and warm. Put the leftovers in the microwave for five to ten seconds if you wish to reheat them. If you save leftovers.
Avocado Fried Egg Bagel Breakfast Sandwich – Are you looking for a breakfast that is both filling and delicious? How does a meal consisting of savory fried eggs, avocado, and cheese sandwiched between two of your favorite bagels seem to you?
You don't have to fried your egg if you don't want to; you can scramble it instead. You are free to include any cheese you choose into the scrambled eggs in any way you like.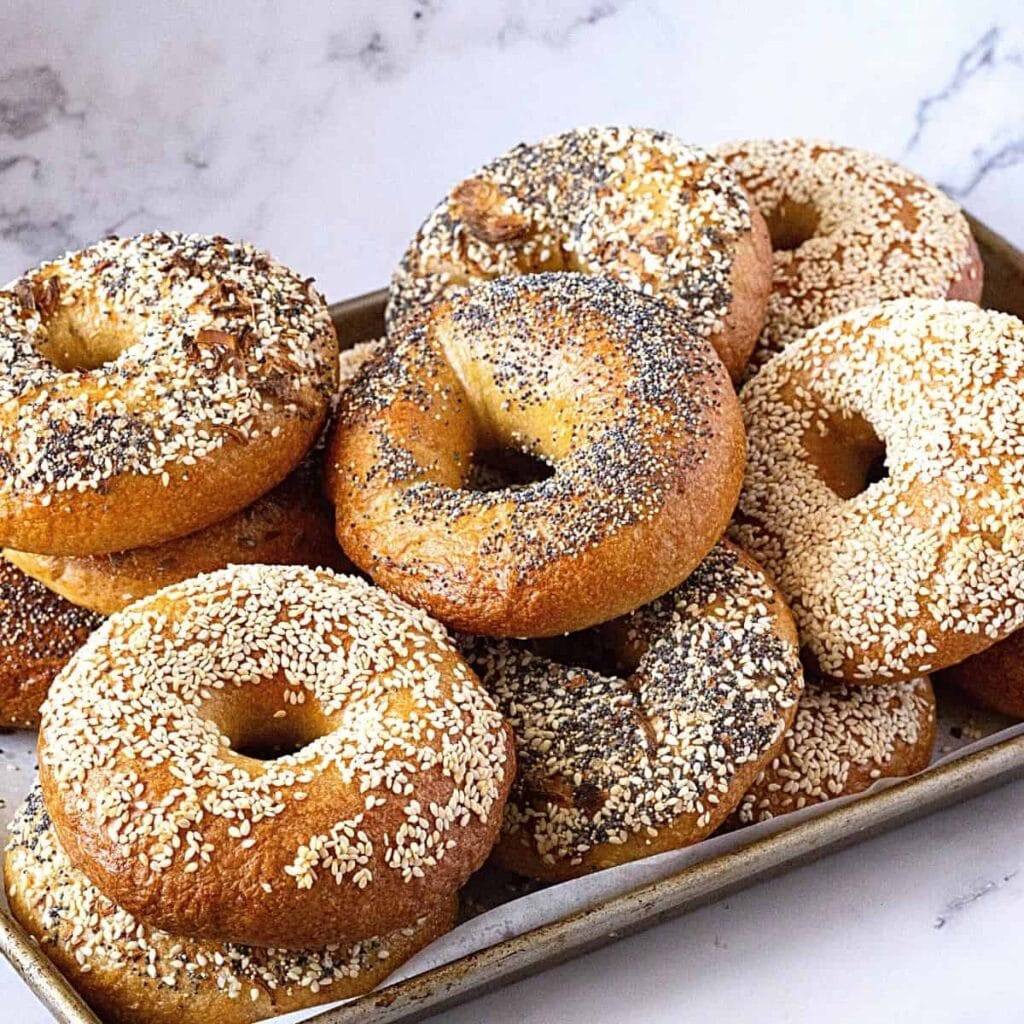 Bagels produced at home are simple to prepare if you follow the few basic steps that are required, and they only call for a few basic components. These bagels have a flavor that works well with any topping you can think of, and they are airy and chewy at the same time.
You can heat the frozen bagel in the microwave at intervals of 30 seconds until it is at the desired temperature. They remain pliable thanks to the water that condenses on them.
You will long for this breakfast bagel sandwich with herb cream cheese, smoked salmon, and a runny egg on top on a daily basis if you give in to the urge to eat it. If you're looking for a healthful way to start your day, go for a bagel made with whole grains.
Served with a fried egg on top. Because I enjoy a runny yolk, I almost always go for eggs cooked with the sunny side up. But if it's not yours to begin with, do it the way you see fit. Eggs poached in butter or a delicate omelette are two other wonderful options.
Have you ever sampled the Steak Egg and Cheese Bagel that is sold at McDonald's? This mouthwatering sandwich features eggs that are fluffy and are topped with melted cheese, onions that have been cooked, and steak. Yum!
Any leftover steak combination can be kept in the refrigerator for up to two days if it is sealed in an airtight container and placed in the fridge. Be sure to wait until it has reached room temperature before putting it away.
For those who enjoy a nutritious sandwich, this one's for you: the tuna salad sandwich! This avocado tuna salad sandwich is served on a whole wheat everything bagel, and it's jam-packed with protein and healthy greens. If you want to round out your meal, pair it with some of your favorite vegetables or tortilla chips.
If you are preparing this recipe in advance so that you can have it at a later time, hold off on adding the avocado to the salad until you are ready to consume it. If you add the avocado too soon after the other ingredients, it will turn brown and become sticky.
A melt-in-your-mouth experience for any meal of the day, this scrumptious grilled cheese bagel breakfast sandwich features sliced apple, pear, cheddar cheese, caramelized onions, arugula, and a sunny-side up egg.
The bottom halves of the bagels should be topped with wilted arugula, slices of apple and pear, onions that have been caramelized, and an over-easy egg. After you have placed the bagel tops on the top, slice them in half and serve.
This bagel sandwich is stuffed with Italian meats, cheese, and peppers, making it an easy lunch option that will keep you going until it's time for dinner.
To make the perfect delectable lunch, cut the sandwich in half and serve it with an easy side salad.
When I made these tuna melts, I was really working on something completely else at the time, but by chance I came up with the idea for them. This is how so many other fantastic discoveries are made.
Place several slices of cheddar cheese on top of each half of the sliced bagel, then dollop each half with a generous amount of tuna salad. Position the open side down on a baking sheet.
There's a new bread in town, and it doesn't disappoint when it comes to flavor. Dempster's has just introduced their brand-new Honey Wheat Bread, which will only be available for a limited period. It goes well with a bit of butter or honey for breakfast, which is my favorite meal of the day. I also made these Honey Almond Breakfast Cups, which are ideal for a relaxed morning on a weekend, and I was very excited to try a Blueberry Brie Grilled Cheese Sandwich.
Prepare a skillet by heating it over a medium-high flame. Grill each side for two to three minutes, or until the internal temperature reaches the doneness you like. Enjoy while it's still hot and cut it in half!
Cheese Bagel Boat
A peppery arugula topping layered on a creamy avocado spread made at home with scallion black pepper cream cheese and topped with everything bagel toppings. This simple yet satisfying breakfast sandwich can be put together in a matter of minutes!
Place the remaining bagel half on top, then sprinkle the avocado slices and arugula leaves with flaky salt, and finish with the bagel half. Cut in half across the width, and then serve.
During this summer, this sandwich made with avocado and tomatoes has been the best lunch I've ever had. Avocado tomato sandwich = avocado heirloom bagelwich. The best possible meal is created when you combine ripe tomatoes, vegetable cream cheese, and avocados that are at their peak of perfection.
Both should be seasoned with smoked salt, then chives, and olive oil should be drizzled on top. After placing the microgreens on top of the bagel, put the halves back together. YUM.
This "recipe" is so ridiculously simple that I almost decided against posting it on the website. However, it is so wonderful, it is a great source of inspiration for weekday dinners, and what could be better than pizza on a bagel? The correct response is nothing.
Serve immediately after evenly sprinkling each portion with the dried oregano, crushed red pepper, and vegan parmesan, if you so want.
Before being baked to delightful melting perfection, toasted bagels are covered with a decadent dip made of spinach and artichoke that is thick and creamy.
Put them under the broiler for an additional minute while keeping a close eye on them; you want to remove them from the oven when the cheese has developed some brown spots.
It's hard to stop eating this sweet and spicy cream cheese that's studded with pieces of almonds and raisins. In addition to that, it can make any bagel taste like a cinnamon-raisin bagel. It is essential to let the cream cheese get to room temperature before using a hand mixer on it; otherwise, the texture won't be completely smooth.
Keep any leftovers in the refrigerator, but bring them to room temperature before serving. If there are any leftovers.
I'm sorry if this dish seems strange, but I PROMISE you it will not disappoint you in the least! This bagel sandwich with sunflower seeds, raisins, and cucumbers is a must-try for those looking for a simple lunch option to enjoy throughout the summer.
On the interior of the bagel, spread cream cheese. To that, add some bacon bits, sunflower seeds, and raisins. Cinnamon, celery salt, and onion powder should be sprinkled over top.
The Everything Avocado Turkey Bagel Sandwich is the stacked lunch that you have been fantasizing about all week long. The meat, avocado, and roasted tomatoes on these flavorful everything bagels are topped with chipotle cream cheese, which adds a creamy kick to the sandwich's overall flavor profile. It's my brand new boo! (gal).
Place some turkey on the bottom halves of the bagels, then top with a salad made with mixed greens and cherry tomatoes that have been burst. If you like, you can sprinkle some additional chopped chipotle peppers on top.
The traditional flavors of a smoked salmon bagel are reimagined as an incredible grilled cheese sandwich thanks to this brilliant transformation.
Grill the burger patties in the pan until golden brown on all sides and the cheese has melted.
On top of a toasted everything bagel is a savory romesco sauce, tangy cream cheese, a flawlessly fried egg, and spicy arugula. Together, these ingredients make for an unforgettable breakfast sandwich.
Arugula, avocado, a fried egg, and microgreens should each be layered on one slice of the bagel. Add the remaining halves of the bagels on top, and then dig in!
Sandwiches made with mashed chickpeas and avocado, topped with dill and pickles, provide for a scrumptious and nutritious alternative to mayonnaise-based sandwich fillings. Delicious, filling, and loaded with the heart-healthy fat that comes from avocado. Ideal for a lunch at home or for taking on a picnic.
To assemble the sandwich, divide the mashed chickpea avocado salad among the slices of bread, place a leaf of lettuce on each slice, and then top with the last slice of bread. Serve!
Never again will you have to shell out cash for a bagel sandwich! These roasted red pepper pesto chicken bagel sandwiches are the easiest lunch to grab and go, since they are packed with SO much gourmet goodness in such a compact package.
Put the halves of the bagel in the broiler and broil them at a high temperature for two to three minutes, or until the cheese is melted and bubbling. After removing from the oven, create sandwiches out of them by topping each with the remaining bagel halves. Serve right away, and have fun with it!
Other Bagel Sandwich Recipes
Bagels topped with berry mascarpone cream cheese are delicious for either breakfast or brunch. You are going to like the luscious and sugary mascarpone filling that is stuffed with juicy berries.
After spreading the velvety and decadent mascarpone cheese on the bagel, I then add a variety of fresh berries including blackberries, blueberries, and raspberries. They add an added touch of beauty to the bagel sandwiches, and you are going to enjoy the sensation of biting into the fresh and juicy berries.
The classic morning routine of eating a bagel with cream cheese is elevated to a new level of excitement with the addition of banana strawberry cream cheese. This semi-homemade cream cheese spread is quite simple to create, and it contributes a great deal of flavor to the dish. Find out how to prepare this simple cream cheese recipe that you can spread on your bagels in the morning.
Make this delicious strawberry banana cream cheese spread as soon as you can so that you can have more fun in the mornings. When it comes to quick and easy breakfasts, you can't go wrong with a bagel spread with cream cheese.
This breakfast bagel is piled high with toppings such as bacon, halloumi, avocado, and chili jam. This recipe for egg in a hole on a bagel is definitely worthy of the title of "Ultimate Breakfast Bagel Recipe."
If you have a bagel that is considered to be "deep," finishing the cooking process on a grill is your best option. There are certain recipes out there that recommend covering the pan with a lid, but by doing so, you are only going to end up steaming the bagel. In my opinion, it's best when it's crispy, like the bottom half.
This morning's breakfast consists of peanut butter and berry jam spread over a bagel with sesame seeds. To get the most dripping, melting goodness out of your sesame bagel, toast it first.
Spread peanut butter and berry jam evenly over each individual slice. Consume either item on its own or as a sandwich.
This unbelievable Bagel Bagel Breakfast Board is loaded with all of the best toppings for bagels! This bagel board is sure to steal the show because to its impressive assortment of spreads, which includes smoked salmon, vegetables, and a few more one-of-a-kind toppings.
After the board has been assembled, the remaining tasks should be delegated to your visitors. With this bagel breakfast board in their possession, they will be able to make the perfect bagel sandwich.
This is the avocado toast that has been haunting our dreams all along! It will satisfy your hunger and keep you going throughout the day thanks to the addition of creamy avocado, tangy labneh, and sweet tomato jam on top.
When the jam has reached the desired consistency, take it from the heat and whisk in the vinegar. You can keep this for up to two weeks in an airtight jar.