With these Asian beef dishes, you can infuse your typical weeknight dinners with a little extra color and energy. I never let my freezer run out of beef because I never want to go hungry.
In the collection of recipes that I have for you today, I will take the ever-reliable beef and give it an Asian spin. You won't believe the variety of Asian meals that may be made with beef if you give it a try!
Asian Ground Beef Recipes
Ground beef from Korea, sweet and spicy, with all the characteristics of your favorite Korean BBQ, but for a third of the price and kid-friendly.
When it comes time to keep the remaining beef, either place it in a plastic bag or wrap the entire dish in plastic wrap and place it in the refrigerator. It can be stored safely for three to four days.
These Baked Korean Meatballs have a combination of sweet and spicy flavors, and they are packed with flavor. This straightforward recipe for ground beef is great for evening meals because it can be prepared in advance and requires little hands-on work. Include this recipe for ground beef in your meal planning rotation right away.
It is possible to prepare Korean Meatballs in advance and store them in the refrigerator or freezer until ready to serve.
This recipe for Chinese Beef Stir Fry calls for just six easy ingredients, in addition to a few cupboard staples, and it can be done in twenty-five minutes or less. Featuring soft ground beef blended with delicious mushrooms, red onions, and flavorful aromatics, all of which are tossed in a brown sauce that is both sweet and salty! This beef dish from China is full of rich tastes; it's meaty, yet healthful, and it's ideal for quick weeknight dinners!
Recipe for Mongolian ground beef that is quite excellent. This recipe for ground beef uses a stir fry sauce that is extremely light and straightforward. Especially mouthwatering, ready in a flash, and easy on the wallet. This will quickly become your go-to meal for weeknights.
Rice should be prepared before serving, and spring onions should be sliced for garnish. Enjoy!
The addition of Asian condiments to a traditional American burger results in a delightfully unique sandwich known as an Asian Sloppy Joe Sandwich. The numerous important ingredients in the ground beef filling that is sandwiched between two pieces of bread give it a sweet and spicy flavor.
To keep the onion and garlic from scorching, which would impart an unpleasant flavor to the sloppy joes, sauté them over moderately low heat. After you have added the ground beef, and only then, should you adjust the heat to be slightly higher than medium.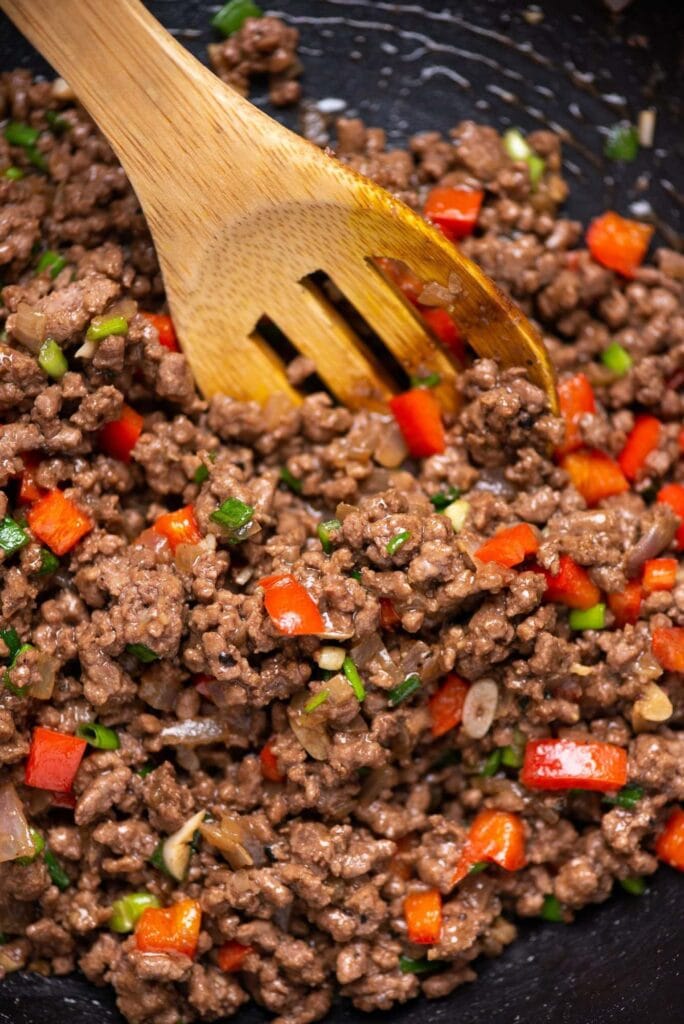 The ground beef bowl is a delectable bowl of juicy ground beef stir fry inspired by Asian cuisine that is eaten along with rice. The stir fry receives a tremendous boost of flavor from the addition of onion and garlic, in addition to some umami sauces.
The sauce can keep nicely in the refrigerator for a period of up to a week. When prepared as a dish, ground beef can be stored in the refrigerator for up to four days before being consumed. Please store it in a container that prevents air from getting in.
When you get a craving for Thai food, what do you want to eat? What I want is something chewy, savory, and pungent all at the same time! And these Thai Meatballs are just that since they hit all the right spots and keep providing even after you think you've had enough! It has been on the list of my top ten go-to party appetizers for some time, and after you try it, you'll understand why I put it there.
They can be stored by being partially baked and then being placed in an airtight container before being placed in the freezer. Remove them from the freezer, then finish cooking them in the oven or on the stovetop. This will bring an end to the cooking process as well as make it crispy.
Ground beef, brown sugar, soy sauce, garlic, and ginger are the only ingredients in this egg roll version of a traditional Korean dish. These beef egg rolls are out of this world because to their sweet and gingery flavor and their tender inside. The consumable equivalent of perfection!
Drain the egg rolls on a drying rack to prevent them from becoming soggy or from sitting in oil.
Wraps made with beef, lettuce, coconut-lime jasmine rice, vegetables, and quick "pickled" shallots that can be made in 30 minutes. Both the steak and the rice that goes into these wraps can be cooked or prepared in advance. Serve these wraps with a cucumber salad or a Panzanella salad for a simple yet delicious meal.
Add the tops of the green onions and some chopped cilantro as a garnish. Place a good number of lime wedges on each plate, and ensure that you sprinkle lime juice over the food before eating.
In less than twenty minutes, you can make ground beef teriyaki ramen using noodles, broccoli, and a teriyaki sauce made with only five ingredients!
You are free to use ground chicken, pork, turkey, or even crumbled extra-firm tofu in place of the ground beef in any recipe that calls for it.
These bowls of Korean-Inspired Ground "Beef" Bulgogi are incredibly simple to make, and the dish can be put together in fewer than thirty minutes (or even less!).
If you add some gochujang, which is a Korean chile paste, you may also eat these bowls in the style of bibimbap, which is a Korean dish consisting of mixed rice.
Bulgogi Beef Triangle Kimbap. Korean ground beef seasoned with bulgogi and wrapped in rice with a sheet of seaweed for a crunch. Uncomplicated, scrumptious, substantial, and utterly gratifying. It's perfect for breakfast, a snack, a picnic, or a lunch that you can whip up quickly and take on the move!
After the beef has been browned, stir in the garlic that has been minced, along with some soy sauce, brown sugar, and sesame oil. Combine everything, then set the stove to high and cook for two to three minutes. Turn off the heat in order to cool down.
These Beef Cabbage Wraps with an Asian Twist have robust flavors and incredibly fresh ingredients, making them the ideal choice for a speedy yet delectable and easy supper option. After the ground beef and umami flavors have been cooked together, the finished product is stuffed into a Napa cabbage leaf and topped with a tangy slaw that does not contain mayonnaise. It is a must-make during the week for dinner, and it is suitable for low-carb, Paleo, and Whole30 diets.
To assemble, place cabbage leaves on a platter, then fill each leaf with meat, then finish with a layer of slaw on top. Additional Sriracha sauce should be drizzled over the top before serving.
easy asian beef recipes
With this recipe for Easy Mongolian Beef, you can easily recreate at home one of your go-to orders from your favorite Chinese restaurant. It's a recipe that makes food that tastes exactly like PF Chang's!
Place all of the steak back into the skillet, and then pour the sauce on top. Cook for a few more minutes after giving it a good stir to coat everything.
Recipe for an easy Japanese beef bowl called gyudon, including soft pieces of beef, onions, and a sauce that is both sweet and savory. Served over a bowl of steaming rice and poached egg.
Presented on a bed of steamed rice for serving. Served with a poached egg, Japanese ginger pickle, and spring onions as a topping.
Beef and Onion Stir Fry – Thin slices of beef that have been marinated and then stir fried with onions produce a delectable main dish that pairs wonderfully with rice but is also good when eaten on its own. In addition to that, the dish is simple to prepare on any day of the week.
I think that white onions would work really well with this dish. This is due to the fact that they are crispier and have a more pronounced flavor, qualities that make them ideal for use in stir fry.
The Crispy Chilli Beef is a shredded beef steak that has been deep fried and then thrown in a sweet, spicy, and savory homemade sauce. This recipe is for shredded beef strips in the form of a popular Chinese takeaway, and they have a delectable sweet and spicy flavor. You will not believe how quickly and easily it can be made at home with only a few basic components.
Serve with hot rice that has been steamed or boiled, or with stir-fried noodles. Also delicious when eaten as a savory snack!
Pad Gra Prow, also known as Thai Basil Beef, is a dish that is not only delicious but also quite simple to make. It is laden with flank steak, bell pepper, garlic, shallots, carrots, basil, and a rich, dark sauce that is typical of Thai cuisine.
Do you like your Thai food on the spicy side? Then, if you want a little extra kick, I recommend topping your plate with a couple of teaspoons of chile-garlic sauce. If everyone who will be eating this dish enjoys spicy cuisine, then you should add a quarter cup of it to the sauce that is called for in the recipe that is below. Because I also provide it to my two young children, I don't include it in the one we eat.
This recipe for beef rendang is the best and most authentic beef rendang recipe you will find anywhere online. Beef, spices, and coconut milk are the primary ingredients in this Malaysian and Indonesian dish that is described as having a spicy, rich, and creamy texture.
This recipe goes well with rice, but it also goes well with noodles or toast. For a quick and easy dinner during the week that is inspired by the cuisine of Malaysia.
This Easy Beef and Broccoli recipe is perfect for busy weeknights because it can be prepared in a single skillet and served on the table in under thirty minutes. In a flavorful, salty, and sweet Asian beef sauce, tender slices of beef are combined with broccoli that has been stir-fried to a crisp. You're going to want to make sure your taste buds are ready for this. When I serve this meal, I like to accompany it with either Crab Rangoon Egg Rolls or Sweet Pork Dumplings.
Be careful not to overcook the broccoli. It is ideal when it is crisp and soft. This dish tastes best when it is served quickly, so make sure to prepare your rice or noodles ahead of time.
This recipe for Sticky Asian Glazed Meatballs is quick and simple to create because it only calls for a few common cupboard ingredients. Everyone in the household will enjoy it very much.
On top of the rice, serve the meatballs. If you so want, top with chopped green onions and toasted sesame seeds.
Keto Asian Beef Recipes
This easy supper of Asian beef with mushrooms and snow peas is excellent for those times throughout the week when you don't have much time to cook. Your loved ones are going to go crazy for the soft mushrooms, crisp snow peas, and thinly sliced sirloin steak that has been sautéed in garlic.
Be aware that soy sauce has a significantly higher sodium content than Tamari sauce if you want to use it in the recipe for Asian beef. Use a soy sauce with a lower salt content, or use a smaller amount of regular soy sauce and add additional olive oil. Alternately, you might dilute the sauce with a little bit of water to make it more manageable.
These Quick and Easy Keto Baked Asian Meatballs are rich with flavor thanks to their sweet and sour flavors. On game day, you may serve these beef and pork meatballs with their accompanying sauce alongside cauliflower rice or in addition to other appetizers.
The broiling process for meatballs of small to medium size should only take around seven minutes in the oven. When they are done, either cut one of them open to check if the meat is still pink on the inside, or use a meat thermometer. The internal temperature of a pork and beef meatball after it has been cooked should be 165 degrees Fahrenheit.
It is one of my favorite things to do to convert standard takeout foods into keto-friendly alternatives. This Keto Mongolian meat is made with a few substitutions, but the end result tastes exactly like PF Changs' Mongolian beef! The preparation of low-carb takeout is quite simple and may be completed in the same amount of time it would take to order delivery.
To prepare this dish as a meal that can be stored in the freezer, place all of the ingredients, with the exception of the green onion, in a big freezer bag with a zip-top closure or a freezer bowl. Put in the freezer for up to three months.
This beef curry can be prepared in a flash, and it's brimming with flavor thanks to the slow cooking method. You may even make twice as much as the recipe calls for and store the extras in the freezer to ensure that you always have a tasty meal on hand. (A simple approach to food prepping!)
Take the dish out of the oven and add the meat back into the sauce in a gentle manner. Serve hot alongside zoodles, cauliflower rice, or greens that have been steamed.
The keto yellow beef curry is a wonderful keto meal that turns out delightfully creamy and can be consumed throughout the fall or at any other time of the year. You are going to have a great time preparing this beef and potato curry recipe, especially considering that it is low in carbohydrates.
Riced Cauliflower will be served to you, whereas Jasmine Rice will be served to the others.
Crockpot Asian Beef Recipes
The flank steak, garlic, ginger, brown sugar, and soy sauce that make up this slow cooker Mongolian beef dish are all cooked together. This recipe for the slow cooker creates a dish that tastes exactly like something you might get at a Chinese restaurant!
Cook, covered, on HIGH for two to three hours or on LOW for four to five hours. After mixing in the green onions, the dish is ready to be served.
Are you looking for a meal with a kick that will give you that "nestle up at home" feeling? This Asian beef stew prepared in a slow cooker is without a doubt a winner. It fulfills the role of comfort food admirably, making it ideal for the colder months but also showing that it can hold its own in the warmer seasons. The warmth complements the dish perfectly and derives from a variety of ingredients, including Chinese five-spice powder, hoisin sauce, and chile paste, among others.
Remove the top, add the thawed pieces, and give it a good stir. Continue to heat the stew in the covered pot for an additional 5 minutes. Serve atop a bed of rice.
This delicious Slow Cooker Korean Beef recipe is uncomplicated yet bursting with flavor. On a cold winter night, this dish is the ideal way to warm up.
Cornstarch and two tablespoons of water should be mixed together with a whisk in a small bowl. Combine the cornstarch mixture with the liquid already in the slow cooker. Cook, covered, over high heat for a further half an hour, or until the sauce has reached the desired consistency.
Oh my goodness, I adore ribs. Baby back ribs that are tasty, tender, and fall off the bone, wrapped in a saucy sauce that is influenced by Asian cuisine.
When you are brushing the sauce onto the ribs the second time, be generous with it. To get the most out of eating ribs, you should cover them in as much sticky sauce as possible.
This recipe for Asian short ribs calls for the use of a crockpot to create delicate meat that is flavored with Chinese spices. An excellent choice for a holiday lunch is braised beef short ribs.
Cook for a total of six hours on low. Using high power in an effort to cut down on the amount of time needed to cook the food is not something I would endorse. It is crucial to let ribs (of any kind) simmer slowly, even though it is more convenient to cook them for a shorter period of time.
Asian Soup Beef Recipes
The time has come, and we must seize it. Your Bun Bo Bae is watching out for you. This is the recipe for bn b Hu, which is a fiery Vietnamese beef noodle soup, that has been passed down in my family. It's a noodle soup that hasn't nearly become as popular as pho has, but it has its own unique flavor.
You can serve this dish with lime quarters, full Vietnamese coriander leaves, and additional banana blossoms.
The aromatic, warm, and reassuring qualities of beef dumpling soup are enhanced by the manner in which it is served. This recipe includes an in-depth instruction that walks you through the process of creating it from scratch.
When cooking dumplings, it is best to do it in batches of twenty to twenty-five at a time. This will prevent the dumplings from adhering to the bottom of the pot.
Sichuan Boiled Beef, also known as shui zhu niu rou in Chinese, literally translates to "water boiled beef" in English. This cuisine hails from the region of Sichuan in China and is quite popular due to its high protein content and low fat percentage.
The addition of a tablespoon or so of heated oil right before serving is the single most critical step in the preparation of meat that has been boiled. It reawakens all of the scents, causing everyone's noses to prick up in eager expectation as the dish is laid down on the table. This soup goes wonderfully with bowls of rice, which can be served with it.
It should come as no surprise that China has an abundance of noodle meals as well as recipes for Chinese noodle soup. More than you could possibly have imagined or heard about in your entire life. The range of options is as extensive as China's diverse landscape, and EVERYTHING on offer is mouthwatering. However, the Lanzhou Beef Noodle Soup stands out among the numerous other noodle meals (and noodle soups in particular) that are available.
To conclude, add a large ladle of broth and radishes, a teaspoon of spicy chili oil, and a handful each of chopped scallion and cilantro. Don't be hesitant about adding all of these ingredients.
Niu Rou Mian, a traditional Taiwanese beef noodle soup, was the first dish I absolutely had to eat when I traveled to Taiwan. It is the most well-known and well-liked Taiwanese dish that I am familiar with from outside of Taiwan, where I first tried it. Consequently, I had a strong desire to experience the genuine original.
Drain, then arrange in a bowl suitable for serving. Place noodles in a bowl and pour beef broth over them. Garnish with chopped green onions and cilantro. Immediately serve after cooking. Enjoy!
Make a pot of this Thai Coconut Curry Beef Noodle Soup on a weekday to perk up your evening! Produced by combining Thai red curry paste, coconut milk, and a selection of fresh veggies and herbs. Incredible aromas and tastes! Without a shadow of a doubt, this is one of my top picks for best recipes of this year!
Taste it, and make any necessary adjustments. Take the pan off the heat. Mix in with cilantro, green onions, and basil after that. Transfer to the bowls that will be used for serving. Immediately serve after cooking. If you like, you can add a few drops of lime juice at this point.
The beef short ribs that are used to make galbitang create a substantial and nourishing soup called galbitang. Following this recipe will teach you how to prepare traditional galbitang, which is noted for having a flavor that is very light and fresh.
If you're going to use abalone, make sure to clean them thoroughly and then add them to the soup around seven to eight minutes before you turn off the heat to finish cooking. You can learn how to clean abalone by looking at my abalone porridge.
Typical components of an authentic Hong Kong Cantonese style wonton noodle soup () are wontons, fresh Cantonese egg noodles, and leafy vegetables served in a hot broth. This recipe for shrimp wonton noodle soup is both simple and delectable to make.
Place wonton mein and wontons in a bowl, then top with cooked lettuce. Finally, bring the chicken stock to a boil, then pour it over the noodles and wontons while it is still hot.
This Beef Pho made in an Instant Pot is a speedy and simple alternative to the traditional Vietnamese soup! This savory stock can be brought to a boil in about an hour, which means you won't have to spend the entire day stirring it on the stove.
As soon as possible, place the meat in the bowls that contain the hot liquid; the beef will cook in the broth. If you like your meat with more of a well-done texture, you may also sear the beef slices in the Instant Pot for 1 to 2 minutes before cooking them.
The Pho B meal, also known as Vietnamese Beef Pho Noodle Soup, is considered to be the national food of Vietnam. Many Vietnamese people place a high value on this dish. Learn how to make beef pho in the traditional manner and how a real Vietnamese would serve it, in addition to other useful cooking ideas that you might not find elsewhere.
As for me, I'm not a big fan of cooking with MSG. If you enjoy using it, avoid adding it while the dish is cooking. Just before you pour the hot soup into your serving bowl, put a small bit of it in the bowl.