Creamy mac and cheese made with fresh apples and sweet apple cider.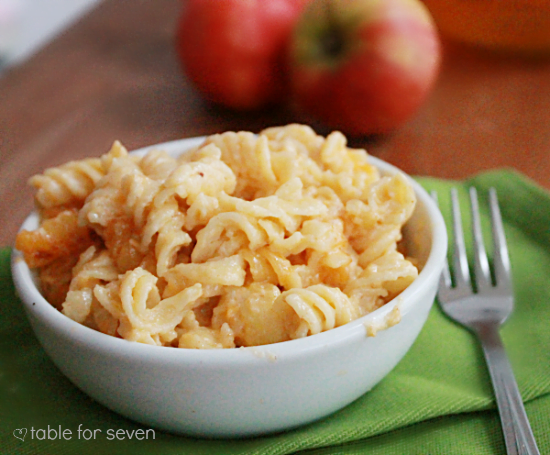 We are full speed ahead with moving into our new place.
My packing pace has increased quite a bit and the kids have been helping out alot when it comes to the new house. They are soooo excited. Of course, so I am!
Our current house is really nice and sits on a big piece of property. But, as I mentioned before, it's small. So small for the seven of us. The land has also been a blessing and a curse at the same time. The kids have a ton of outdoor space, but, it can be a challenge to keep up with the care of it.
For the past 3 weekends, we have raked up about seven thousand tons of leaves and if it snows? The 100 foot gravel driveway becomes a royal pain in the butt to plow, not for me, of course, my dear husband 😉
It will so nice to have a nice, concrete, normal, size driveway for a change. That, and a bigger kitchen! Yay! My new fridge may be avocado green, but, the kitchen is about double the size of what we have here.
I.can't.wait.
But,for now though, we have some serious comfort food.
Macaroni and cheese that is filled with apple cider and actual apples.
It's so seriously amazing. I'm so in love with this dish. Before we actually sat down for dinner, I probably ate about a plateful just by grabbing noodles from it while it cooled off on the stove. Yum-O. A perfectly amazing dinner option for fall.