Serving food in bite-sized portions is almost always a successful strategy. Even if we won't be able to have parties or attend events in the year 2020, we'll still be able to eat the same kinds of foods with our families. Throughout the course of this year, we have spent many weekends gathering around the dinner table to play games while snacking on appetizer platters. It is a lot of fun, and it enables you to test out a lot of different dishes as well as offer everyone the opportunity to choose what they would want to have for dinner.
Summer Appetizer Recipe
The Cowboy Caviar is a vibrant concoction that combines a variety of fresh ingredients with subtle spices and a dash of lime juice. Serve the healthful dip with your favorite chips for an appetizer that is done in less than 15 minutes.
When you are serving a large group, be sure to have the recipe written down and ready to pass out. Serve with the chips of your choice.
You may keep Cowboy Caviar in the refrigerator for up to three or four days if it is sealed tightly in an airtight container and kept there.
Corn, jalapenos, cheddar, sour cream, cream cheese, and bacon come together in this delicious appetizer dip prepared with corn. Accompany the dip with chips.
If using canned corn, save aside some of the water from the can. You may always add a bit more liquid if the dip is too thick for your liking.
This dip is taken to a whole new level when finished off with a sprinkling of queso fresco, chopped cilantro, and fresh lime juice.
You are free to hold off on mixing in the cream cheese until just before the dish is served. Simply let it the necessary amount of time to melt and incorporate.
Chicken salad cups are the ideal appetizer for sharing since they are comprised of a handmade chicken salad that is creamy and is served in a phyllo cup that is crispy. An appetizer consisting of chicken salad that is very simple to prepare.
If you want to make this dish as an appetizer for a party, all you have to do is make it and put it in the refrigerator. This is a wonderful starter that can be prepared in a very short amount of time.
Put any of your cups that you want to use later in the fridge inside of a dish that has a lid. The phyllo cup appetizer will become unappetizing if it is made too long in advance and allowed to become soggy.
These shrimp appetizers feature plump, juicy cajun shrimp over a slice of crisp cucumber that has been topped with creamy avocado. These shrimp and cucumber nibbles are sure to wow your taste buds.
I use tongs to put the shrimp to the pan a few at a time rather than dropping the full quantity into the hot pan at once because this might cause the temperature of the pan to decrease very rapidly. If you crowd the pan, the shrimp will release their juices, which will cause them to turn rubbery. It is important to get a good sear on the shrimp in order to maintain its plumpness and its natural juices. Cook the shrimp in two separate batches if the pan you're using is too small to accommodate all of them at once.
Are you looking for the ideal swim for the summer? This tangy Hawaiian Dip is made with cream cheese, cheddar cheese, pineapple, ham, bacon, and green onions, and it has a smooth and creamy consistency. A delicious and simple recipe that has the added bonus of being a great summertime variation! Perfect for get-togethers by the pool, picnics in the park, and barbecues in the garden!
Before serving, cover the dish with aluminum foil and place it in the refrigerator for at least half an hour. Serve Hawaiian Dip with crackers and other raw vegetables.
The following is a recipe for a delightful small snack that would be perfect for a Hawaiian wedding shower or any other celebration with a tropical theme. The preparation is straightforward, since it requires just three components: fresh pineapple, bacon, and brown sugar.
If you're going to a party and they ask you to bring an appetizer, anything wrapped in bacon is almost guaranteed to be a success. This appetizer is guaranteed to be the first one to be completely gone since the mix of the smoky bacon and the sweet and tangy pineapple makes for a winning combo.
These delicious and nutritious snacks made with cucumbers and everything bagel flavor are about as simple as it gets. They are the perfect keto snack, and they can be assembled in a matter of minutes. Make a batch for a large group, or just a couple for yourself to munch on. The victory goes to…cucumber bites!
Additionally, the topping made with cream cheese can be prepared in advance. As long as the cream cheese and yogurt are not stale, you may mix all of the ingredients together, give it a good beating, and then put it in the refrigerator for up to a week.
Make use of this portable recipe for hot and fresh Spinach-Artichoke Dip Wonton Cups instead of purchasing separate bags of chips and dipping sauce.
Allow me to introduce you to your new appetizer all-star that packs a whole lot of flavor into each bite. If time-saving is your middle name and creamy-crisp nibbles are your game, then allow me to do so. Spinach-Artichoke Dip Wonton Cups are the most convenient snack for the person who thinks the most about what they eat.
The majority of the United States experiences pleasant weather, longer days, and the opportunity to spend more time with friends throughout the summer months. It doesn't matter if you're throwing a wedding, a rehearsal dinner, a laid-back backyard barbecue, or just a casual get-together with friends; we've found that easy-to-eat snacks, such as finger food or bite-sized appetizers, are ideal for summer entertaining. This applies whether you're hosting a wedding, a rehearsal dinner, or a laid-back backyard barbecue. You could go with a more lavish presentation of easy-to-eat favorites like lobster rolls, mini tostadas, or even ceviche. Something as simple as buffalo wing bites served with celery and bleu cheese on a skewer could work beautifully, or you could go with a more lavish presentation of easy-to-eat favorites.
Pickle aficionados will go crazy for this dill pickle dip, which makes it the ideal dish to bring to a party. Put a dollop of your dipping sauce on each piece. To be served chilled!
Finger Foods Appetizer Recipes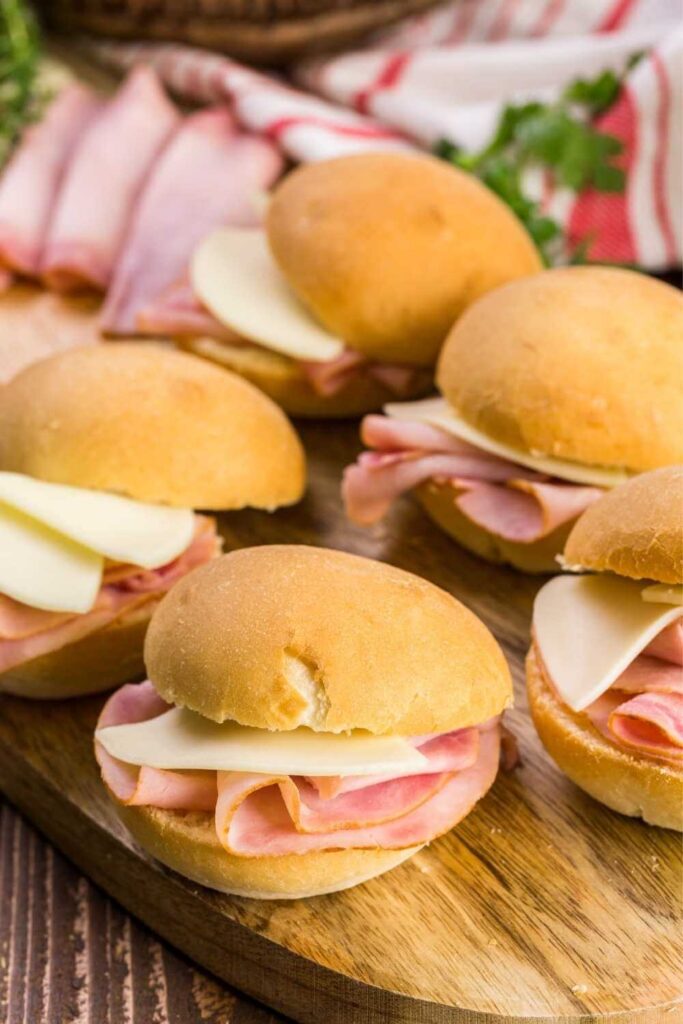 The sweet Hawaiian buns used to make Ham and Cheese Sliders are stuffed with ham and two different kinds of cheese, and then coated with a spread made of savory garlic butter. These easy ham sliders, which are baked till brown on the exterior and melty on the inside, are great for feeding a large number of people at parties or for evening dinners at home.
It is possible to prepare these sandwiches up to four hours in advance and keep them fresh by storing them in an airtight container. When you are ready to bake them in the oven, take them out of the refrigerator and place them in a container that seals tightly to keep air out.
This extra delectable appetizer is creamy, cheesy, spicy, bite-sized, and filled with bacon. Oh, and did I mention it's extra delicious?
Do you want more of a kick? You are welcome to modify the amount of heat by either adding or deleting a jalapeo from the recipe, or by chopping the peppers while leaving the seeds and membranes intact.
Don't over bake! The only thing you really want to happen to the cheese on top of each mouthful is for it to melt, and you'll know they're ready when the filling begins to bubble slightly. In my oven, it takes around 8 minutes to prepare.
These Baked Southwest Eggrolls are the ideal finger snack for parties, game day, get-togethers, or even as a quick meal for the family! They are easy to make and only require a few ingredients.
Bake at 375 degrees Fahrenheit for 15 to 20 minutes, or until the edges of the dish are golden brown and crispy. (Move the baking dish to the lowest rack in the oven if you discover that the egg roll wrappers are getting too brown around the edges before they crisp up.)
Pigs in a blanket are taken to a whole new level when upgraded to the next level with these Garlic Bread Meatball Bites, which are the ideal finger snacks for your holiday celebrations.
These appetizers can be served at room temperature for up to two hours after being prepared.
If you store them in a container that doesn't let air in, you may keep them in the fridge for up to four days.
Freeze: Baked or unbaked, they may be frozen for up to two months in the freezer.
Bacon Cheddar Ranch Pinwheels are the best party snacks you can make in under twenty minutes. All you need is bacon, cheddar, and ranch dressing. These crack chicken pinwheels are sure to become your go-to appetizer since they are stuffed with flavorful ingredients like bacon, cream cheese, cheddar cheese, and ranch, and they are loaded with all of those ingredients.
If you want to be able to store the pinwheels in the freezer, it is recommended that you bake them first. You may try freezing the unbaked pinwheels, but this is not something I would recommend due to the fact that grated cheese tends to fall apart when frozen. Because of this, the baked version is the one that should be frozen.
To accomplish this, just place the roll-ups in a container that cannot be opened and then place them in the freezer for up to three months. Reheat the food in the oven at 375 degrees Fahrenheit for about ten minutes, or until it is completely heated. A baking sheet coated with parchment paper should be used.
The bacon crackers have a crunch that is salty, sweet, savory, and spicy, and they will make all of your taste buds happy. The name of this dish gives a very accurate description of what it entails. They are essentially crackers that have candied bacon sprinkled on top and a little bit of pepper added so that you really become hooked on them.
Bake for approximately 15–20 minutes, or until the brown sugar starts to melt and the bacon gets crisp. Before consuming crackers, you should let them cool down on a wire rack.
Everybody's beloved tiny piggies are baked in a buttery sweet-and-savory brown sugar glaze for these delicious Glazed Pigs in a Blanket, which adds an absolutely fantastic taste to this traditional savory dish. They are absolutely ideal for serving at parties, tailgating events, and sporting events in general.
Because there are around 35 to 40 links contained within each 12-ounce container of Lit'l Smokies, the recipe quantities should be able to be successfully executed with a single package.
Recipe for Bacon and Chives Cheese Balls — An easy appetizer that is cheesy, bacon-flavored, and topped with chives. These cheese balls are perfect for holiday gatherings or game days.
If you are not going to serve it straight away, please store it in the refrigerator.
Remove the cheese balls from the refrigerator approximately twenty minutes before you are ready to serve them.
Cooking these scrumptious bacon-wrapped smokies in the slow cooker is a certain way to win over the admiration of your party attendees. They are incredibly easy to make, and all anyone needs to do to eat one is take a toothpick out of the slow cooker. Try our alternative recipe for small smokies made in the crockpot instead if you'd like a bit less effort beforehand.
To ensure that all of the sausages get an opportunity to brown, you should probably move the ones that are currently touching the sides of the slow cooker to the center, and then move the ones that are currently in the center to the outside.
The appetizer known as "Garlic Knots" is a bite-sized dish that is prepared by folding pieces of pizza crust dough into knots and covering them with a garlic butter sauce. Make sure you give my Cheesy Garlic Bread a go if you're a fan of garlic bread.
When everything is done, add the cooked knots to the butter mixture, and toss to coat them evenly.
Serve heated with dipping sauce on the side as an alternative.
Party Appetizer Recipes
If you like strawberry cheesecake and you're also a human, then you are going to go bonkers over these darling deviled strawberries. They are stuffed with an irresistible sweet cream cheese filling, and then they are topped with crushed graham crackers for the finishing touch. If you like strawberry cheesecake, then you are going to go bonkers over these deviled strawberries. They make a charming addition to the food display during a party, and believe me when I say that everyone will be vying for them first.
You may also cut the strawberries and prepare them the day ahead, but be sure to store them in an airtight container with a paper towel between the layers. This will prevent the strawberries from becoming mushy or developing that strange refrigerator flavor.
These party sandwiches, which can be devoured in just two bites each, are the ideal complement to your appetizer table. The children adore them as well!
When they are still warm, having just come out of the oven, the sandwiches have the finest flavor. It is best to bake them shortly before you intend to serve them, in my opinion. The crackers are at risk of becoming mushy if they are allowed to sit for too long. The actions that you CAN do in advance are outlined in the following instructions; follow them!
Crescents filled with Rotel sausage and cream cheese, with only four ingredients total! Crescent rolls, cream cheese, chopped tomatoes and green chiles from Rotel, and sausage are the ingredients in this dish. You can prepare the filling in advance. You may have them for breakfast or as an appetizer. They are delicious. When I bring these to a party or potluck, there are never any leftovers at the end of the night. These things drive people absolutely insane!
It is possible to prepare the filling in advance and store it in the refrigerator until it is time to assemble the crescents. If you store the filling in the refrigerator, it will stay fresh for up to three days.
Using a pizza cutter to divide the crescent rolls in half is the method that works best for me.
I transfer the filling to the crescent rolls with the use of a little scoop designed for cookies.
These little nibbles have a delicious flavor whether they are still warm from the oven or have cooled to room temperature.
Ceviche is a dish that is prepared by marinating or "cooking" fresh fish in citrus juice, often lime or lemon juice. The acid from the citrus accomplishes all of the job, so there is no need to worry about using heat. For this dish, I opted to use precooked shrimp; however, I still allowed the shrimp to marinade in the lime juice and included a substantial amount of fresh veggies.
Ceviche de Camarones may be kept fresh in the refrigerator for up to three days when stored in an airtight container.
This recipe for Jalapeño Popper Cheese Ball is loaded with all of your favorite jalapeno popper sensations, including crisp smoky bacon, fiery minced jalapenos, sharp cheddar, and silky cream cheese. The Christmas season is drawing near, and everyone ought to have a couple fantastic ideas for appetizers in their back pocket.
Make sure to start at least one day ahead of time. This provides for sufficient time for it to truly firm up as intended.
If your cheese ball is difficult to shape, try shaping it again after it has been refrigerated for several hours and while it is still wrapped in plastic wrap.
To achieve the best results, take the cheese ball from the refrigerator 20 minutes before serving and roll it in the topping that was saved.
Easy Appetizers Recipes
This tasty Dried Beef Cheese Ball is a traditional Christmas snack that can be served at events all year round. It's a crowd-pleaser every time. This dish is simple, brings back childhood memories, and only takes ten minutes to create. It has the ideal balance of creamy and salty flavors. It's a classic meal that's perfect for serving when you have guests around, and you're going to appreciate how easy it is to make!
This recipe for cheese balls contains dried beef, and they are especially delicious when covered in chopped walnuts. Pecans need only be chopped up if that is how you would want to serve it (or buy pecan pieces). After filling a shallow dish with the nuts, take the cheese ball that has been refrigerated and roll it in the pecans so that they stick to it.
For a simple appetizer that looks impressive enough to serve at a dinner party, try making artichoke bruschetta using toasted baguette slices, which are then covered with a creamy artichoke spread and broiled until bubbling.
In place of bruschetta, you may use this recipe to make artichoke dip by spreading the artichoke mixture in a pie plate or other similar baking dish and baking it at 350 degrees Fahrenheit for 25 to 30 minutes, until it is hot and bubbling. If you want the top to get a little darker, you may broil it for a few more minutes. Baguette slices, a variety of crackers, or tortilla chips can be served alongside this as a dip.
Making pinwheels is the ideal snack to prepare for Super Bowl parties or backyard barbecues because of its portability and versatility. Simple appetizers that may be prepared in advance and are invariably devoured in a matter of seconds.
You may keep it in a container that seals firmly for three to four days, or you can tightly wrap it in plastic wrap and store it in a ziplock bag in the freezer for up to two months.
Using sliced salami, cream cheese, and banana peppers as the main ingredients, these salami pinwheels are quite simple to prepare. For your upcoming get-together, impress your guests with these low carb salami roll up appetizers that only require three ingredients.
Both rolls should be stored in the refrigerator for at least an hour. Take the pinwheels out of the refrigerator and slice them into pinwheel shapes before serving.
Seasoning for Everything But the Bagel These Kielbasa Bites are a quick and easy appetizer that only require three ingredients. They are great for a gathering or as a snack.
It is of the utmost importance that they be allowed to cool because, if they are not, not only is it possible to damage the crescent dough while it is still warm, but it may also begin to separate from the kielbasa slice. If you let them cool down first (I know, they are SO wonderful that it is impossible to be patient! ), the dough will remain stuck to the kielbasa when it is time to serve.
Cold Appetizer Recipes
These vegetable pinwheels are one of the finest go-to appetizers for any party due to the fact that not only do they look wonderful but they also taste amazing. This is the recipe you want if you want to make an appetizer that both adults and children will be interested in eating.
Place in an attractive arrangement on a platter, and serve at once. If you aren't going to serve it straight away, make sure to keep it chilled. Keep in a jar that seals tightly for up to four days.
A good friend of mine prepared this Italian Hoagie Dip for a party I attended many, many years ago, and I fell in love with it at first bite. I'm a chatty person who usually makes her way around the room at gatherings, but at this gathering, the Italian Hoagie Dip quickly became my favorite new acquaintance.
Keep chilled in the refrigerator until ready to serve. Add the chopped lettuce just before serving and toss to combine.
This Bacon Cranberry Walnut Dip is a flavorful and festive dip that is excellent for presenting at holiday gatherings because of its flavor and the holiday spirit it exudes.
Although you may serve this dip right away, I feel that it develops the most flavor after it has been stored in the refrigerator for at least two hours before being served.
It just takes five minutes to prepare whipped feta dip, a creamy appetizer that is traditional in the Mediterranean and is comparable to htipiti and tirokafteri. This dip has flavors that include garlic, nuts, a hint of sweetness, sourness, and heat, and it is really addictive! Serve with pita chips or crostini as a nutritious snack option for sporting events, parties, or any other occasion.
If you have any leftover whipped feta, you can store it in the refrigerator in an airtight container for up to four days. You may store it in the freezer for up to three months.
Are you trying to find recipes that include the Everything Bagel Seasoning that you purchased from Trader Joe's? This recipe for a simple cold dip is great for serving with crackers or chips. If you want the appetizer table at your next party to be completely empty, make a batch of Everything Bagel Dip and put it out there.
This dip may be stored in the refrigerator for three to four days, and the taste grows stronger as it rests for longer periods of time.
Make Ahead Appetizer Recipes
Pinwheel sandwich nibbles have never been more of a good time than they are with these veggie cream cheese tortilla roll ups. They are an excellent choice for lunch at school, but they are also the most incredible choice for an appetizer or a snack to take back with you.
If you want to make these lovely pinwheels in advance, all you need to do is skip the quick trip to the freezer to set them and instead chill them in the refrigerator overnight, either wrapped in plastic wrap or parchment paper, or stored in the airtight container of your choice. This will allow you to make them in plenty of time for your event.
These Glazed Kielbasa Bites Are the Ideal Make-Ahead Appetizer Because They Are Cut Into Bite-Sized Pieces. People can't resist eating it because of the sweet and salty flavor combination it has.
Although these kielbasa bites are fantastic for serving on game day, I prefer to keep them in the rotation throughout the year. At the summer barbecues we host in the backyard, at Christmas and New Year's, and I think my husband may have even asked for them as an appetizer for his birthday dinner. These Glazed Kielbasa Bites may be prepared at virtually any time of day or night. After just one taste of their sweet and salty flavor, you won't be able to get enough!
We are digging far back into the archives of Just a Taste to find this recipe for an appetizer that has been a part of my family's holiday celebrations for more than half a century. These Crescent Roll Veggie Bars are bringing back a classic dish, and they are the snack that everyone is talking about!
In order to shred the broccoli, cauliflower, and carrots, you may either make use of the hole on the side of a box grater that is the largest or a food processor.
Because, let's face it, New Year's Eve is the final hurrah before all those resolutions kick in, indulging in something sophisticated and indulgent is the ideal way to celebrate this momentous event. This dish for an appetizer is convenient since it can be prepared and stored in the refrigerator the day before your guests come, and then it can be transferred to the oven only a few minutes before they arrive.
Yes! These bite-sized portions of macaroni and cheese are excellent for freezing, much like other cheesy types of pasta recipes. After baking, divide the bits into individual servings and place them in a container that can be frozen. After that, to reheat them, lay them on a baking sheet and bake them at 375 degrees Fahrenheit for 20 minutes. When stored in the freezer for around three months, the mac and cheese bits will remain edible.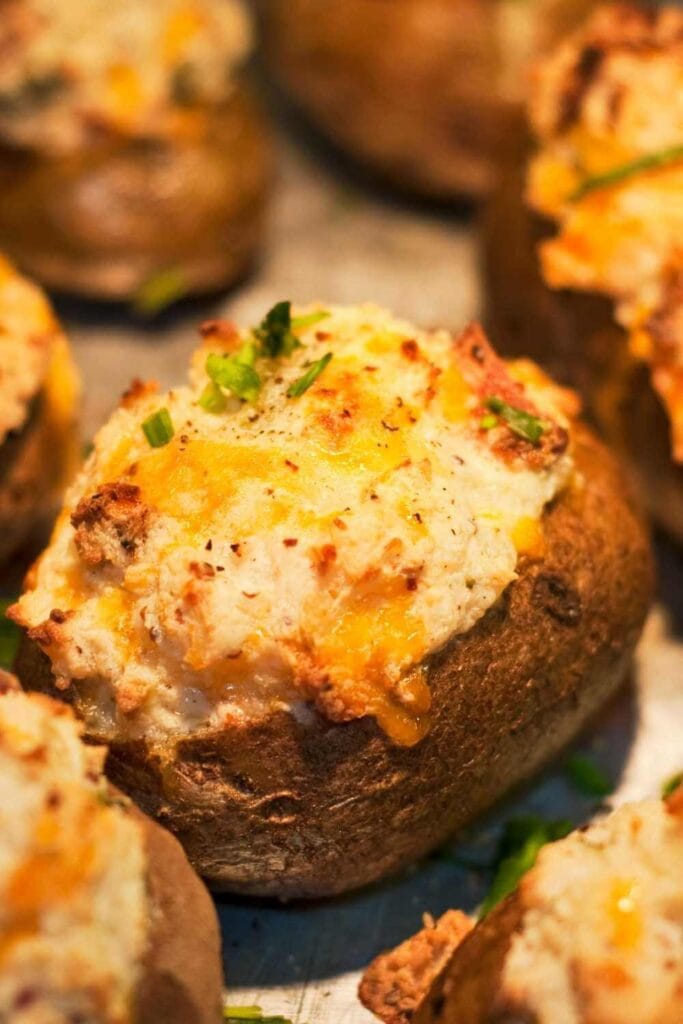 The Pioneer Woman Twice Baked Sweet Potatoes taste like a classic sweet potato casserole, but it's served as individual stuffed boats instead. They have the perfect blend of flavors, great textures, and the trio of layers will impress everyone!
In The Fridge: You can keep your Pioneer Woman Twice Baked Sweet Potatoes in the fridge for up to 5 days, just make sure to store them in an airtight container or wrapped tightly with plastic wrap or foil. To extend the shelf life of your baked sweet potatoes i recommend freezing them instead.
In The Freezer: Let your leftovers Pioneer Woman Twice Baked sweet Potatoes cool to room temperature. Wrap each Twice Baked sweet potato in aluminum foil and place them in freezer bags. Baked Pioneer Woman Twice Baked sweet potatoes can be stored in the freezer for 6 months.