Serve this classic Alton Brown Blackberry Cobbler with a dollop of vanilla ice cream and you'll see why it's loved by the whole family. It may be ready in an hour, and it keeps well in the fridge for a few days or in the freezer.
Cobblers are characterized by a fruit layer topped with a biscuit topping that, after baked, takes on the texture of a "cobblestone street," hence the name. The dish resembles a sweet casserole. Making a lattice topping out of pie dough is another common way to decorate the top layer.
Quick and simple, this dessert is perfect for using up any extra pastry dough in the fridge. Simple meals like this one are great for enjoying summer's bounty of fresh berries.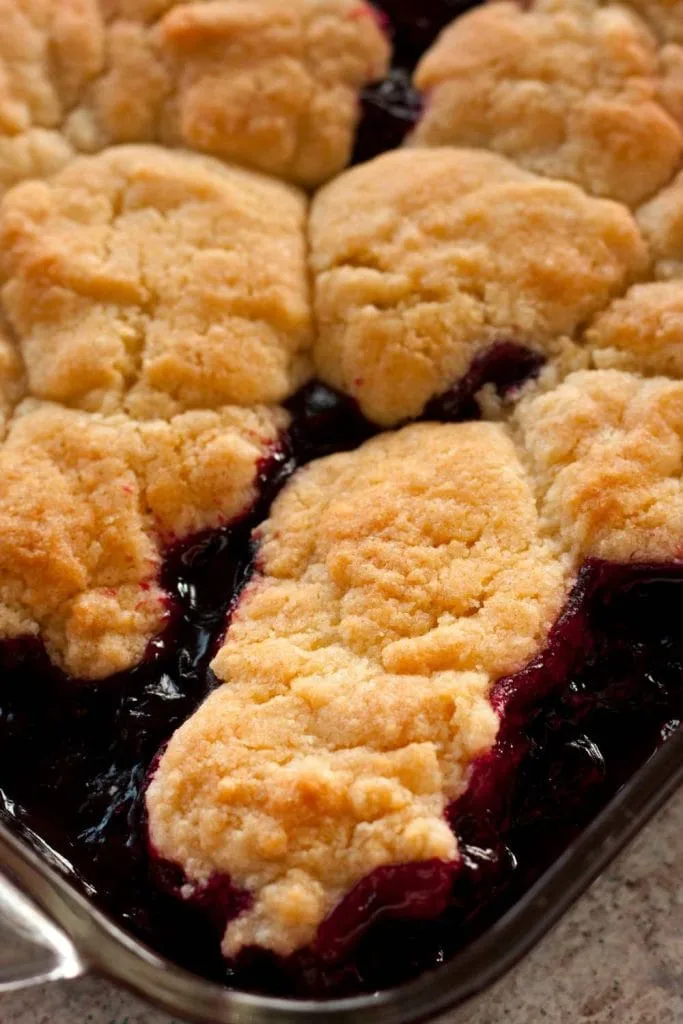 Why You'll Love This Recipes
A Simple And Fast Dish For Dessert. This recipe for blackberry cobbler is made in a conventional manner, using a batter resembling that of biscuits. It makes use of butter that has been melted to make the mixing process simpler, and the blackberry filling is mixed immediately in the baking dish.
Make Ahead. It may be stored for many days in the refrigerator and is also suitable for freezing. Therefore, it is a fantastic option for a dessert that requires advanced preparation.
Flavorings. If you can only find sour blackberries, double the amount of sugar in the recipe. Alternatively, you may add some citrus zest, a tablespoon of a liquor that goes well with blackberries, or some zest from another citrus fruit. When it comes to the taste of this delectable treat, you need to find your own personal sweet spot.
What Is a Cobbler?
Fruit cobblers, which often have a biscuit-like topping, are quite simple to make. You can whip together a simple cobbler in no time if you have a few baskets of berries or other stone fruit lying around, and then let it simmer while you enjoy your main course.
If you'd like, you may add whipped cream on top or serve vanilla ice cream on the side.
Alton Brown Blackberry Cobbler Ingredients
Blackberries. Even though I prefer using fresh blackberries, I've prepared this recipe using frozen ones before (as I did today when I couldn't locate any delicious berries). You may also use wild blackberries, but you may need to tweak the sugar amount depending on how sweet they are.
Lemon. For the filling and, optionally, the finishing touch, both lemon zest and lemon juice are utilized.
Cornstarch. It acts as a thickener for the syrupy sauce produced by the baking berries, which release their juices.
Sugar. Using brown sugar gives this cobbler a delicious caramel flavor, but using white sugar or a combination of the two also works very well.
Clarified Butter.
Flour. You can use either all-purpose flour or cake flour successfully.
Salt. In the kitchen, kosher salt is my go-to. However, normal kitchen salt would do in a pinch.
Baking Powder. The biscuit topping will rise more successfully in the oven if you use fresh yeast.
Buttermilk. Tenderizing the dough in this way makes for better biscuits, but ordinary milk or even almond milk can suffice in a pinch.
What If I Don't Have Any Fresh Blackberries On Hand?
You may use frozen blackberries in this recipe for Blackberry Cobbler, but, before using them, you will need to let the berries thaw completely and squeeze out any excess liquid they may contain.
How To Make Alton Brown Blackberry Cobbler
Preheat oven to 350°F/180°C.
For The Berry Mixture
Prepare an 8×11-inch ceramic or glass dish (or a 9-inch circular or square baking dish).
Combine the blackberries, lemon zest, and sugar in the baking dish (or in a medium bowl and then add to the dish).
In a small dish, whisk together the cornstarch and lemon juice until smooth and no lumps remain. Pour over the blackberry mixture and gently stir.
For The Topping
Combine the flour, baking powder, salt, and sugar in a large mixing basin.
Add the buttermilk, followed by the melted butter.
Lightly combine with a fork or spoon. To ensure that the biscuit bakes soft and supple, do not over-mix or beat it. It should have the consistency of a scone or thick muffin batter.
Mounds of this mixture should be spooned over the blackberries.
Bake for 40-45 minutes, or until the topping is dry and brown and can be delicately lifted with a fork. Check this frequently since it may seem thoroughly done on the outside but still requires time to properly bake on the inside.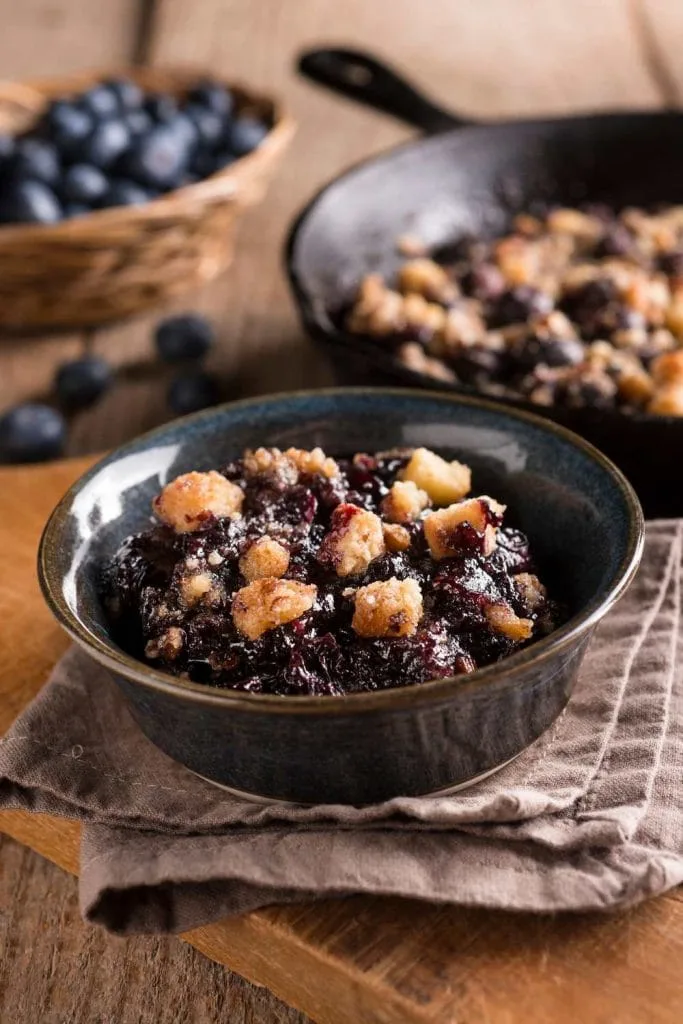 What To Serve With Blackberry Cobbler?
Blackberry cobbler is delicious with :
Fruit Slices
Fresh Juices
Honey
Carrots
Whipped Cream
Ice Cream
How To Store Blackberry Cobbler?
In The Fridge. The best time to eat blackberry cobbler is while it's still warm, soon after it comes out of the oven. However, if you want to make it ahead of time or you just have leftovers, you can preserve the blackberry cobbler in the refrigerator, covered, for about four to five days.
In The Freezer. After ensuring that the blackberry cobbler has cooled to room temperature, store it in the freezer for up to three months while protecting it carefully with aluminum foil. Defrost in the refrigerator overnight, then reheat in the oven for a few minutes before serving.
To Reheat. Reheating individual servings of this blackberry cobbler may be accomplished in either the microwave or the oven. After removing the blackberry cobbler from the refrigerator and allowing it to come to room temperature, you can then reheat it in the oven. Bake for approximately twenty minutes at a temperature of 350 degrees Fahrenheit, or until well heated. If it begins to brown too quickly, cover it with some aluminum foil.
Can You Make Blackberry Cobbler Using Different Fruits?
Absolutely! Strawberries, blueberries, and raspberries work just as well, and you may use one of those or another berry if you choose. Fruits like apricots, peaches, sweet cherries, apples, pears, and bananas go well with blackberries, so feel free to swap out some of the blackberries for one of these. Since the baking time for this blackberry cobbler is 45-50 minutes, you may use frozen berries without worrying about them being undercooked.
You may use frozen or partially frozen berries directly from the freezer without having to defrost them beforehand. Adapt this blackberry cobbler recipe to your tastes by looking at some of our other cobbler recipes.
Recipe Tips
Organization. Always start by reading the recipe, making sure you have all of the ingredients, at the appropriate temperatures, as well as the rest of the equipment and space needed to create it, and that you have read it well. Because of this, the procedure will go much more smoothly!
Baking Time. Even though they may seem the same or extremely similar, ovens and pans are unique in their own way and should be treated as such. The baking times that I provide in my recipes are intended to be as precise as possible; nonetheless, it is possible that you will need more or less time. To determine whether or not your oven is at the appropriate temperature, you may use a thermometer that is designed to be installed inside the oven, such as the Oxo Oven Thermometer. It is highly recommended that you keep a log of how your oven functions and any minute adjustments that may need to be made.
Berries. Whether you use fresh or frozen blackberries, the amount of some of the components will need to be adjusted accordingly. Frozen ones will release more liquid, thus I propose you add additional cornstarch. Because their level of sweetness is unknown, I suggest using a range of different quantities of sugar.
Cobbler Topping. If you give the recipe card what it says to do, you shouldn't have any problems. The secret is to avoid over-mixing the ingredients. You may alternatively prepare a topping that resembles scones and uses cold butter, just like the one that is called for in the recipe for the blueberry cobbler that we use. However, it requires a little bit more labor, and I wanted to keep this recipe as easy as possible. A topping with more crunch. If you want a topping that has more of a crunch to it, you can adjust the quantity of sugar that is called for in the recipe.
Storing. This straightforward recipe for blackberry cobbler may be prepared in advance, frozen for up to one month, or stored in the refrigerator for up to several days before being served, provided that it is always kept well covered in plastic wrap. If there isn't enough room in the refrigerator for the baking dish, you may save any leftovers in an airtight container instead.
Flavorings. Blackberries are delicious not just when combined with lemon, but also with orange (anyone for an orange blackberry muffin loaf?). If you want the mild sweetness of vanilla, you may also add up to one teaspoon of vanilla extract to the mixture. My personal opinion is that doing so diminishes the quality of the fruit, but you may disagree. Additionally, a touch of ground cinnamon or mace may be a delicious complement to the dish.
Blackberry Cobbler With A Southern Twist. The most typical change is to top the berries with pie crust dough rather than a biscuit topping. This is the most popular version. If you enjoy the sound of this concept, you might want to try the cinnamon plum cobbler, which has cutouts made from pastry dough for the top crust. You may alternatively go the usual route and make the crust with a lattice pattern.
Alton Brown Blackberry Cobbler Nutrition Facts
Amount Per Serving
Calories 488
Total Fat 13g
Saturated Fat 8.1g
Trans Fat 0.5g
Cholesterol 35mg
Sodium 455mg
Potassium 228mg
Total Carbohydrate 88g
Dietary Fiber 4.8g
Sugars 52g
Protein 6.5g
Vitamin A 12%
Vitamin C 29%
Calcium 27%
Nutrition Facts Source: Source