Get yourself a package of biscuit dough and get air frying your doughnuts! These gems are crazy easy and even more delicious. A cinnamon sugar topping and gooey chocolate filling make these irresistible.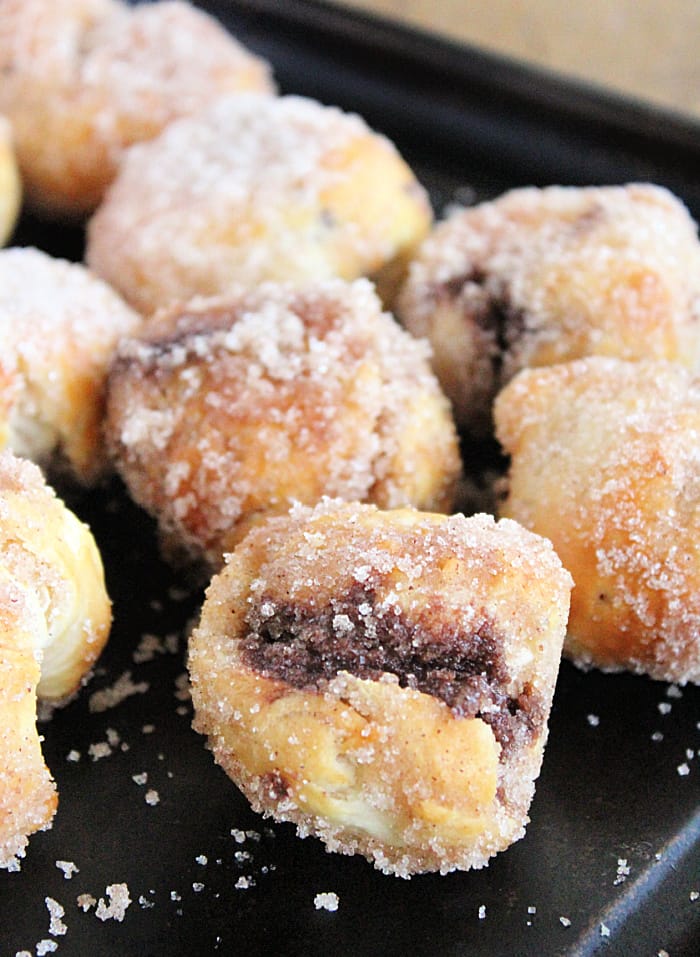 Homemade doughnuts are something I have been making since starting Table for Seven back in 2011. I had no idea how easy they were until then. Well, I'm still making homemade doughnuts and now, I've added making them in the air fryer to my doughnut making knowledge.
Ingredients List:
Refrigerated biscuit dough
Chocolate
Sugar
Ground cinnamon
Butter
Biscuit Dough: I prefer to use the "Grands Flaky" version of biscuit dough for these. However, any variety/brand will work. Keep in mind, if you use a smaller size biscuit dough, use less chocolate and cut back on your cooking time.
Chocolate: Honestly, I used a super size (9 oz) dark chocolate Hershey's bar we had in our pantry. I simply broke it into pieces and used the pieces for the filling. But, you can use a regular chocolate bar, a baking bar or chocolate chips instead. Just be sure you don't overload it with chocolate. You don't want a mess in your air fryer.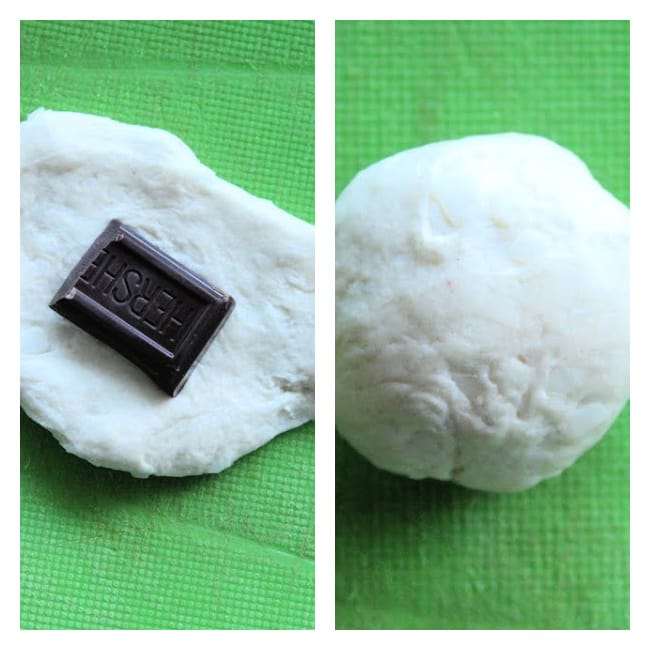 How to Make:
First, remove the dough from the package and separate into individual biscuits. Cut each one of those in half.
Take each half and flatten it out a bit. Then, place chocolate in the middle.
Fold up the sides of the dough, then, roll it into a ball.
Place prepared dough balls in freezer. You only have to freeze these for about 30 minutes. This process helps keep them holding together while in the air fryer.
When ready, cook in air fryer for a few minutes. Remove basket, give a little toss and cook an additional few minutes.
When they are done and still a bit warm, coat in butter, then, in the cinnamon sugar.
A few last notes:
When cooking, do just a few at a time. Don't over crowd your basket.
Cooking time may vary, depending on your air fryer. For your first batch, cook just 1 or 2 to test.
Your biscuit dough will expand while air frying. Your doughnuts should stay together pretty well, but, don't fret if there is a crack in them. They still taste yummy!
More Semi Homemade Doughnuts!