A compilation of the finest chicken recipes for the air fryer that can be found anywhere on the internet, so that you can start looking forward to supper once more. If you've ever used an air fryer to cook chicken, you're probably aware of how juicy the finished product is. It seems there are a whole bunch of different chicken dishes you can prepare with that! You are able to prepare anything from breaded chicken to chicken wings to fried chicken to chicken prepared using the keto diet and even whole birds! The sheer variety of chicken dishes that may be prepared with this appliance is mind-boggling.
The fact that each individual piece of chicken turns out perfectly cooked is the finest part. They are juicy, soft, and the outside of some of them even has an additional crunchy texture.I have compiled a list of thirty different chicken dishes that can all be prepared with an air fryer. Have a look at the options down below, then decide which ones are your favorites!
Healthy Air Fryer Chicken Recipes
Drumsticks cooked in an air fryer are among the most straightforward methods to prepare chicken. They end up with a crisp outside while remaining delicate on the inside, and they are an excellent food choice.
This recipe will teach you an easy method to add flavor to the chicken drumsticks, as well as provide you with tips and tactics for achieving the best results while air frying chicken.
First, get your air fryer up to temperature. You will end up with the most delicious and crispy chicken drumsticks if you do this.
Before putting them to the bowl, wipe the drumsticks clean using a paper towel to remove any excess moisture. Any extra moisture will be removed as a result.
Always turn the chicken over once the grilling has reached the halfway point to ensure an equal crispiness.
In the final few minutes of cooking, give the chicken a quick check to make sure it has not been overdone. Because each air fryer is unique, it is possible that it may take some time before you become accustomed to the temperature settings and the operation of your particular model.
The preparation of this healthy chicken and vegetables dish in an air fryer couldn't be simpler or more flavorful. In less than twenty minutes, you'll have a keto-friendly or low-carb supper that's full and nutritious.
You should be proud to provide something so nutritious and delicious, with ingredients that are both fresh and appetizing. The roasted chicken is flavorful, juicy, and succulent, while the vegetables round out the dinner with additional taste and color.
Alternately, you may use your go-to spice combination in place of the Italian seasoning. It is also possible to use blends like as taco, cajun, lemon pepper, or any other blend. If the mixture already contains salt, you should cut back on the amount of salt that you use.
You may use any of your favorite vegetables that require little to no cooking time in place of the vegetables. If you want to utilize potatoes, you need air fry them for ten minutes beforehand.
These chicken pieces with garlic and parmesan baked in an air fryer are out of this world delicious. These bits of air-fried chicken have kept us interested even after we had consumed them for three days in a row.
We now offer a chicken dish that is flavored with garlic and parmesan cheese. This will quickly become one of your family's go-to dinners, especially among the younger members of your household. This recipe for chicken bits that are cooked in an air fryer is incredibly simple and quick to put together and cook. If you make them without using any flour or cornstarch, the amount of carbohydrates in them is the lowest possible. It all relies on how you structure your diet and how many carbohydrates you allow yourself to consume each day. The lowest possible carb count may be achieved by not using any flour or cornstarch in the recipe. Even though there won't be a crust on the chicken, both the taste and the texture will be wonderful.
The use of this recipe ensures that the chicken breasts cooked in the air fryer will always be succulent, tasty, and seasoned with a variety of herbs and spices. This chicken dish for the air fryer has just the proper amount of flavour and can be prepared in a variety of different ways. This dish is ideal for someone who is following a Whole30 or ketogenic diet, and it is also delicious for regular eaters.
The leftover chicken may be kept in the refrigerator for up to three days if it is sealed in an airtight container. When properly wrapped in plastic wrap, it may also be stored in the freezer for up to three months without going bad.
Easy Air Fryer Chicken Recipes
The Air Fryer Chicken Thighs turn out to be oh-so-crispy, extremely tender, and juicy while just requiring a few basic ingredients. You may turn them into a meal by adding them to a salad, placing them on top of risotto, combining them with green beans and spaghetti, and many other combinations.
When cooking chicken thighs in an air fryer, the ideal temperature is 400 degrees Fahrenheit (it should be hot enough to crisp the skin, but not so hot that the skin will burn before the flesh on the inside is fully cooked). You'll end up with chicken thighs that are juicy and crispy thanks to this method.
Lemon-Pepper Chicken Prepared in an Air Fryer Dinner may be ready in less than twenty minutes when you use an air fryer to prepare juicy chicken. This simple recipe for air-fried chicken works wonderfully with a wide variety of side dishes to create a supper that is quick and easy to prepare. These chicken breasts cooked in an air fryer are going to become a go-to option for a quick and easy meal in no time at all.
After placing the chicken in the air fryer in a single layer, you will cook the chicken for ten minutes before flipping the pieces over and continuing to cook them for another ten minutes. It is essential that the internal temperature of the chicken reaches 165 degrees Fahrenheit.
My preferred method for making breaded chicken without using an excessive amount of oil results in chicken cutlets that are crispy, golden, and delicious. Chicken prepared in an air fryer and coated in breadcrumbs will quickly replace your previous go-to method for preparing chicken. It takes less than twenty minutes to prepare and requires very little preparation. You may serve these chicken cutlets from the air fryer on their own, on hamburger buns, or on top of a salad.
Fresh is the best way to enjoy these chicken cutlets with a crispy coating. However, you may keep it fresh for three to five days in the refrigerator. Before placing the cutlets in a container that seals tightly and putting it in the refrigerator, you should give them ample time to cool down fully on a cooling rack. To freeze, store the food in a container that will keep out air for up to one month. Allow to defrost in the refrigerator for a whole night.
You are going to be blown away by how fast and simple it is to prepare Air Fryer BBQ Chicken Breast that is covered in a sauce that is thick and sticky. Completed in just 20 minutes, the outside is perfectly crisp, and the interior is perfectly juicy. A straightforward meal for dinner that the entire family will enjoy.
Pounding the chicken will produce the greatest results since it will make it more even. Because of the difference in thickness between the two sides of the chicken, it is possible for one side to get overcooked while the other side remains raw.
There is a wide range of sizes and shapes available for chicken breasts. If you have chicken that is particularly huge and thick (more than an inch and a half), then it will most likely take a little bit longer to cook. If you have tiny breasts, you might want to check up with your doctor after a shorter amount of time. A thermometer designed for meat is essential for this.
Dinner Air Fryer Chicken Recipes
A restaurant staple that can be easily recreated at home, chicken parmesan made in an air fryer yields a dish that is both crispy and soft. The best part is that you can cook everything in the air fryer with a minimum of oil, less mess, and less effort on your side!
If you love chicken, you adore chicken parmesan! What could possibly be objectionable about fried chicken doused in a flavorful marinara sauce and piled high with cheese?
We prefer to serve our chicken parmesan made in the air fryer with a mountain of spaghetti noodles that have been coated with marinara sauce. Serve with roasted vegetables and a fresh green salad for a meal that's easier on the stomach. The zucchini prepared in our air fryer is a delicious accompaniment to Italian recipes.
After only ten minutes of cooking time and requiring very little preparation, chicken cutlets cooked in an air fryer come out crunchy, golden, and flavorful. You may eat them on their own, as a topping for salads or pasta, or in a variety of other ways.
I really enjoy chicken that has been breaded, but it might be difficult to obtain enough breadcrumbs to adhere to a large piece of flesh. When I have a need for something crisp, I find that the best solution is to make chicken cutlets in an air fryer instead.
After the chicken cutlets have had a chance to cool down, you should store them in a container that is airtight. They can keep for up to four days in the refrigerator if you put them there.
After being breaded and air-fried to juicy perfection, fresh boneless chicken breasts are marinated in a unique spice blend made with buttermilk, and then served. This buttermilk spicy chicken sandwich made in an air fryer is a mouthwatering dream come true. It is served on a toasted bread with lettuce, tomato, and an optional spicy mayonnaise.
It would appear that a new establishment specializing in chicken opens its doors someplace nearby every single week. When they do, I will never be able to believe the amount of people in the lines. There are five within a ten-minute drive of where I live in the suburbs of Chicago, and all of them are constantly completely full. Even the fast food chains with locations all over the country serve chicken sandwiches that are so popular that customers line up to obtain them. Is it possible to produce our own using the air fryer? You bet that we can do it!
Chicken tenders cooked in an air fryer require no breading and are easy to prepare. Due to their lack of breading and tasty seasoning, these unbreaded chicken tenderloins have a fraction of the fat and calories of the standard form. In fewer than twenty minutes, you may have these succulent chicken tenders as the main course of a dinner that is appropriate for families, or you can add them to a salad or wrap.
Prepared in Advance: After seasoning the tenderloins, place them in the refrigerator for up to one day before air-frying them.
The leftovers can be kept in the refrigerator for up to three days if they are sealed in an airtight container.
Freezer: Seasoned chicken tenders without breading can be kept in a container that is suitable for the freezer for up to three months.
Keto Air Fryer Chicken Recipes
This recipe for Keto Fried Chicken made with almond flour will produce the best Keto fried drumsticks, Keto fried chicken breasts, and low carb chicken tenders you've ever tasted. The chicken tenders in this dish were supposed to be cooked in a pan at first, but then I realized that they could also be made in an air fryer on the keto diet.
Almond flour, pork panko (pork rinds), and pickle juice are all you really need to get started with the ketogenic diet. I know that pickle juice isn't exactly something you'd have on hand in your Keto kitchen, but bear with me while I explain.
Honey Trees Sugar-Free Honey, which is used in the preparation of Chick-fil-A Sauce, is sweetened with ingredients that are analogous to those found in Splenda. Since I make an effort to consume foods that are as natural as possible, I only use a very small amount of this honey in my cooking every so often.
How can you ensure that your keto chicken breading will always be delicious? Using this recipe, you will not only be able to prepare a chicken crust that is absolutely crispy, but you will also be able to keep the carb content low. Less than 4 grams of carbohydrates are contained in each serving!
When I just have a short amount of time for either lunch or supper, this is my go-to meal of choice. I use an air fryer to prepare the chicken encrusted with parmesan, and the process takes only around half an hour.
The fact that it may be utilized as part of meal preparation is perhaps the aspect of this recipe that appeals to me the most. Simply increase the quantity of each item by two, then proceed as directed in the recipe. I used the following amount of each component. After you have frozen the chicken pieces individually for a couple of hours in the freezer, place them in a plastic bag that has been sealed with a ziplock. You have the ability to keep the chicken suitable for the keto diet in the freezer for up to three months.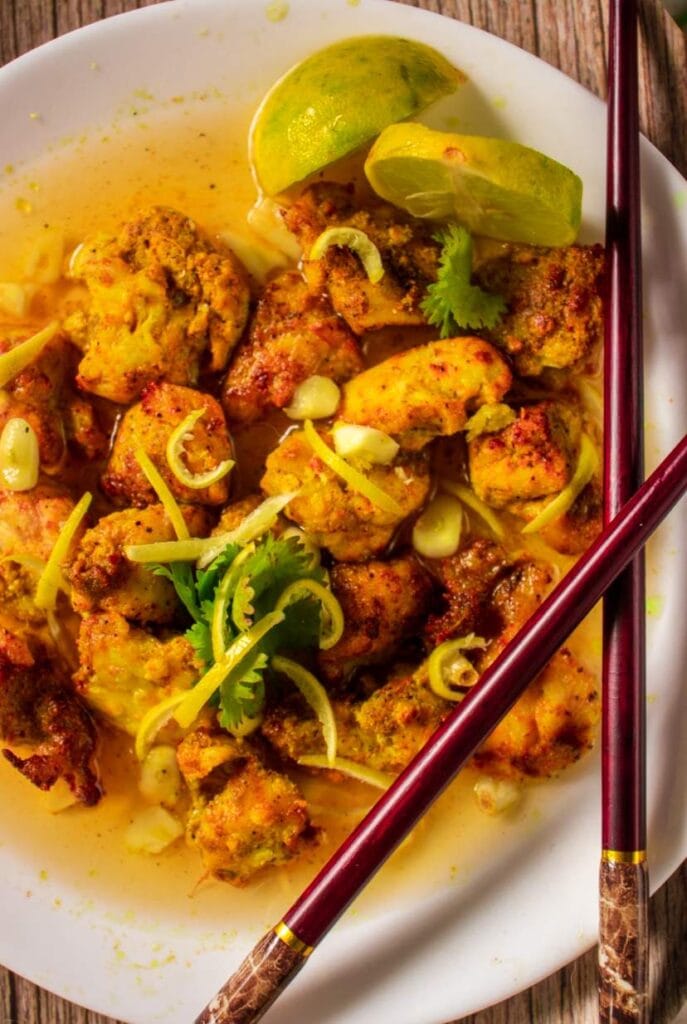 Recipe for Chinese Lemon Chicken that is Crispy and Flavorful and is Made in an Air Fryer for Keto Dieters Chinese Lemon Chicken is a Favorite Asian Chicken Recipe This is one of the dishes for Friday night takeaways that is requested the most.
This Chinese Lemon Chicken Recipe is a famous dish from Asian takeaways, but we've given it a healthy spin by making it gluten free (by omitting the breading) while still maintaining its signature crispiness.
You can create this Chinese Lemon Chicken dish, and then keep it in the refrigerator for up to two weeks if you put it in an airtight container. It just requires one night in the refrigerator to defrost, and then a quick trip to the oven before it's ready to be served.
A mouthwatering cuisine that is suitable for the ketogenic diet may be ready in approximately half an hour, counting the time needed for preparation.
I've always been a fan of the Everything Bagel, so when I saw that Trader Joe's and a few other stores were selling the spices separately, I knew I had to give them a try. It's hard for me to put my finger on exactly what it is about the combination of onion and sesame seeds that makes Everything Spice taste so fantastic, but I'm quite sure it is. If you haven't tried it already, you really should since it has a wonderful equilibrium of savory spices.
Follow the instructions provided by the manufacturer of your air fryer for heating it up and adding oil before beginning to air fry. If you have recently acquired an air fryer or have been given one as a present, it is imperative that you familiarize yourself with the manufacturer's instructions.
Best Air Fryer Chicken Recipes
The Air Fryer Parmesan Crusted Chicken is a recipe for air fryer chicken that is both easy and pleasant to make. Chicken that is moist and juicy on the inside and has a wonderful crispy coating on the outside. The chicken is coated in a Parmesan mix and then air-fried to produce the crust.
If you have any leftovers, you can simply place it in a container that seals well and put it in the refrigerator. The chicken can be kept for up to three days in the refrigerator.
Because the crust has a lovely flavorful crunch, it tastes best when it is still fresh. It is recommended that you reheat the food in a microwave, oven, or air fryer.
The Air Fryer Jalapeno Popper Hasselback Chicken is a really smoky and low-carb dish that has an abundance of cheese and bacon. This dish is suitable for anyone following a ketogenic diet and requires just five items to prepare.
Making this chicken dish that's low in carbs is a breeze. Simply make incisions all the way through the chicken breasts. After cutting slits in the chicken breasts, you will load them with a mixture of cream cheese, cheddar cheese, bacon, and pickled jalapenos.
The Air Fryer Jalapeno Popper Hasselback Chicken is a really smoky and low-carb dish that has an abundance of cheese and bacon. This dish is suitable for anyone following a ketogenic diet and requires just five items to prepare.
Making this chicken dish that's low in carbs is a breeze. Simply make incisions all the way through the chicken breasts. After cutting slits in the chicken breasts, you will load them with a mixture of cream cheese, cheddar cheese, bacon, and pickled jalapenos.
Chicken nuggets prepared in an air fryer are both kid-friendly and incredibly simple to prepare. This supper may be prepared in an air fryer and served to the table in less than 15 minutes. You won't have enough time to get takeout at that rate!
It is necessary for the internal temperature of the chicken to rise to 165 degrees. This takes roughly ten to twelve minutes, on average.
Low Carb Air Fryer Chicken Recipes
This recipe is guaranteed to produce boneless chicken breasts that are wonderfully juicy each and every time you make them in the air fryer.
Brining the chicken before cooking in an air fryer is the key to achieving the most delicious and juicy chicken breasts possible without using breading. This is an excellent choice for anyone who is adhering to a Whole30, keto, or low-carb diet.
What kind and how many chickens do you have in the basket? The time it takes to process one item vs an entire basket might range anywhere from one to two minutes.
Cooking times on air fryers might vary depending on the model. Wattage and kind of air fryer are two of these parameters that should be considered (basket style vs toaster style air fryer). Acquaint yourself with your air fryer and make any necessary modifications.
Garlic Parmesan Making wings in your air fryer is a simple process that results in wings that are packed with flavor. Your mouth will water just thinking about these chicken wings, which require only seven ingredients and are ready in under twenty minutes of cooking time. There is no longer a need for takeaway.
The internal temperature of chicken wings should reach 165 degrees Fahrenheit. The USDA advises cooking chicken to an internal temperature of 165 degrees Fahrenheit.
These chicken tenders are air-fried in a matter of minutes and come out soft, juicy, and brimming with flavor. Since there is no breading on these chicken fingers, they are easy to prepare and low in carbohydrates.
You may certainly bake these chicken fingers in their natural state instead. It is suggested that you put them on a baking sheet that has been covered with parchment paper. After preheating the oven to 350 degrees, place the chicken tenders inside and bake for 15 to 20 minutes. If your chicken tenderloins are on the smaller side, you will want to check them anywhere between the 12 and 13 minute marks while they are cooking. It is essential to keep in mind that chicken tenders cooked in the oven will not achieve the same level of "crispiness" as those prepared in an air fryer.
This recipe for jalapeño poppers made in an air fryer is appropriate for those following the keto, low carb, and weight watchers diets. They are loaded with cream cheese and wrapped in bacon. Because they are full, crispy on the surface, and creamy and cheesy on the inside, these peppers will be great for your upcoming party as an appetizer.
I've tried a lot of different appetizers to make in the air fryer, but this one tops them all. If I decide to go in a different direction, you will be the first to know!
Instant Pot Air Fryer Chicken Recipes
This Instant Pot Duo Crisp with Air Fryer Breaded Chicken Breast Recipe is going to blow your mind with how easy it is to make.
I suppose I should begin by informing you that my family recently went out and got a brand new Instant Pot. Initially, we had the Instant Pot Duo with an 8-quart capacity. which we have kept and continue to make use of on a weekly basis. On the other hand, I wished to get a cover for my air fryer. The Mealthy Crisplid or the Instant Pot Air Fryer Lid were the two options. In addition to that, we would require an air fryer basket in addition to any additional accessories that are compatible with it.
If the internal temperature has not reached 165 degrees, replace the lid and continue cooking the meat for a few more minutes until it reaches that temperature. Please take note that each of our chicken breasts were rather substantial, weighing in at close to two pounds altogether. If the chicken breasts you are using are thinner or weigh less, you may be able to reduce the amount of time they are cooked at a higher temperature or reduce the amount of time they are cooked at a lower temperature.
Whether you have the Instant Pot Air Fryer Lid or the Instant Pot Duo Crisp, you can make these tasty chicken wings in your electric pressure cooker using the air fryer function. When you make chicken wings in your Instant Pot Air Fryer, you get the crispiest chicken wings possible, and in my opinion, they turn out even better than when you make them in the oven. You also have the option of using a conventional air fryer or baking it in the oven if you don't have an Instant Pot.
Put the chicken wings back into the basket of the air fryer and air fried them for about 5 minutes, turning them over halfway through the cooking process. This will reheat the wings. It is not necessary to use the tray in order to reheat the chicken wings. You may put them in the basket, and by doing so, you will be able to reheat a bigger amount of wings at once, as opposed to simply seven or eight wings at a time.
You get the best of both worlds when you use a Ninja Foodi or an Instant Pot Duo Crisp since these pots allow you to pressure cook in addition to broiling or air frying in the same appliance. Therefore, although the majority of Instant Pot whole chicken recipes need you to either sear your chicken before cooking it or place it under the broiler after it has been cooked, the Duo Crisp allows you to complete all of these steps in a single appliance. This is extremely important since, in most cases, a rotisserie chicken dish made in an Instant Pot will not really produce the desired crispy skin unless the chicken is first broiled in the oven.
If you do not have a Duo Crisp or a Ninja Foodi, you can still make this recipe by using a pressure cooker for 30 minutes, allowing the pressure to naturally release, and then broiling the chicken in the oven to crisp the skin and bring the chicken to the desired temperature. If you do not have either of those pressure cookers, you can still make this recipe. Alternately, you may brown the meat by first sautéing it in the saucepan, and then you could pressure cook it for thirty-five minutes, followed by a natural release. Put it straight onto the trivet that comes with the Instant Pot.
This chicken and noodles dish made in the Instant Pot with cream of chicken soup is undeniably one of those recipes in which you do absolutely nothing but end up with a substantial amount of food. Delicious taste, silky sauce, finely textured noodles, tender chicken cooked to perfection all come together in this dish.
If you have any leftover butter after making the dish, you may store it in an airtight container or freezer bag and keep it frozen for up to three months.
Because the noodle sauce is quite thick, and the noodles have a tendency to cling together and form a clump when they are warmed, I would not recommend freezing the dish if you did not use butter in its preparation.
Roasted Chicken Air Fryer Recipes
Who knew that the air fryer could be used to prepare chicken fajitas for dinner? The only thing left to do is to sprinkle fajita spice over the sliced chicken, peppers, and onions that are already in the tray.
The preparation of these chicken fajitas is really uncomplicated. After slicing the chicken, peppers, and onion, you will season them with chili powder, cumin, cayenne pepper, salt, and pepper using my favorite fajita ingredients, olive oil, and salt and pepper to taste. You may either use a fajita spice packet that is 1 ounce in size, or you could make your own fajita seasoning using 2 teaspoons.
Crispy chicken bits cooked in the air fryer without any breading! This recipe for boneless chicken bits in an air fryer is simple and quick to prepare. After being properly seasoned with a selection of herbs and spices, the chicken pieces are air-fried until they reach the desired level of doneness. Find out how to prepare it from fresh or frozen, as well as the appropriate cooking time for either method.
To keep chicken fresh for up to five days in the refrigerator, place it in a Ziploc bag or other airtight container, mark it with your name and the date, and then place it in the refrigerator.
Put the cooked chicken in a Ziploc bag or another airtight container, mark it with your name and the date, and then put it in the freezer. The chicken will keep well in the freezer for up to six months if it is stored properly.