No need to turn on the hot oven! Make a cake right in your air fryer. Quick, simple and delicious.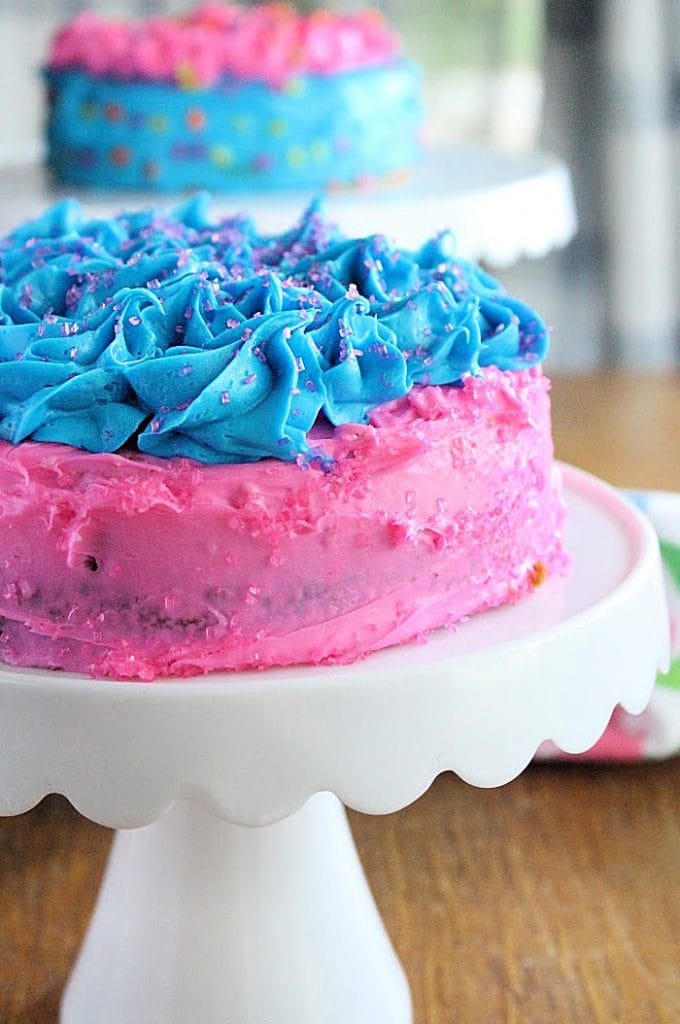 My youngest child is 11 years old. He really loves to bake. He loves to bake so much that I gave him a section over at Table for Seven. He is "My Budding Baker".
Every so often, he helps me make a dessert and we share it on the other site. It's always a kid friendly recipe and most of the time, uses a cake mix. This cake? He helped me with it. Much like these cupcakes, he had to add some color to things.
Friends, you can not have a cake and just frost it with plain old white vanilla frosting! It must have color, sprinkles, glitter and of course, lots of colored frosting. 💙 💖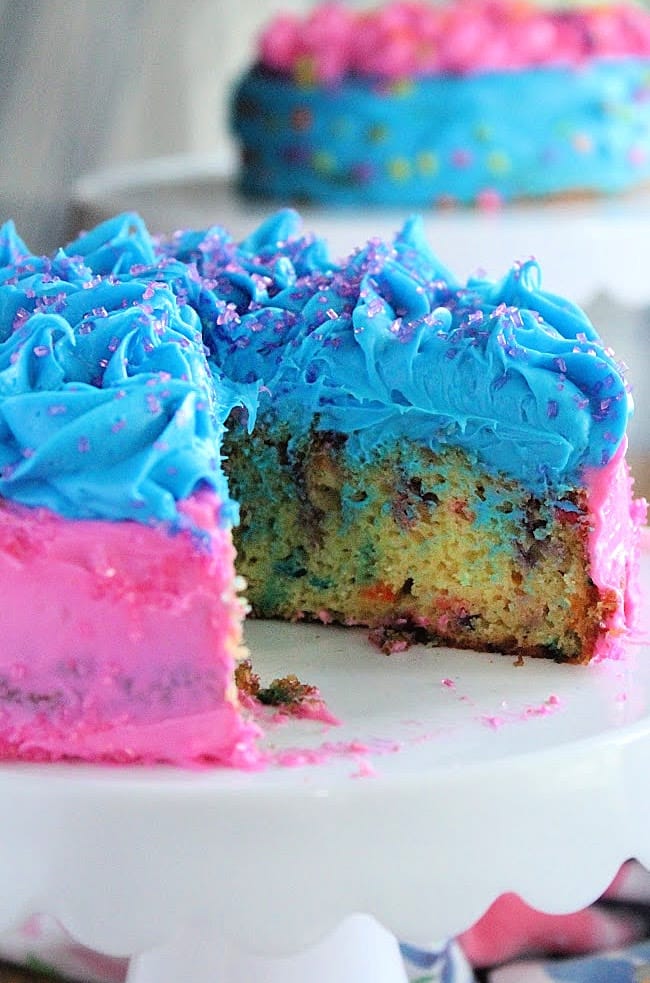 WHAT DO I NEED FOR THIS RECIPE?
Air Fryer
Non stick cooking spray
2- 6 inch pans
Cake mix + ingredients called for on box
Frosting of your choice
Cake Mix: Any flavor will work. Just stick with a "standard" size package.
Baking Pan: I used my 2-6 inch round cake pans. They fit perfectly in my air fryer basket. The size of the pan that you can use will depend on the size of your air fryer basket. Whatever size you use, you will need to use two of them or you can bake one cake, let it cool, remove it from the pan and use for the second cake.
If you want to make just one cake, you can store any leftover batter in the refrigerator. Be sure you cover it and use it within a day or two. Tip: Make pancakes with your leftover batter. YUM.
How to Make an Air Fryer Cake:
First, grease your baking pan (s). Then, mix batter according to the box instructions.
If you are using two pans, divide the batter evenly into the two pans. If not, fill the pan with about 2 cups of batter..or about 3/4 full.
Place filled pan into air fryer basket and cook.
Your cooking time will vary, depending on your air fryer and cake size. I cooked a 6 inch pan for 20 minutes at 320 degrees. I would recommend starting your cooking time at 20 minutes and check to see how it's cooking. Insert a toothpick into the cake. If it's comes out clean, it's done. If not, cook for additional time.
Let the cake cool for about 5-10 minutes before removing it from the baking pan. Then, cool completely before frosting.