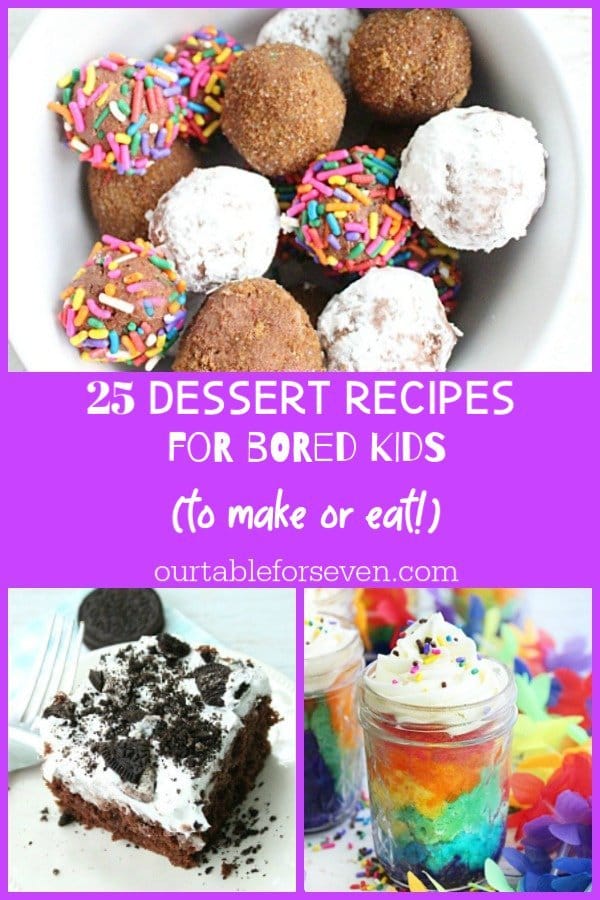 25 Dessert Recipes for Bored Kids- To Make or Eat! Got a few kids at home who are BORED? You are not alone. Get them baking in the kitchen! These dessert recipes can be made by kids with or without assistance, depending on their age/skill level. Of course, if they can't make them, they will sure love eating them. Fun, delicious and kid-friendly!
Hey Guys-
As you can see, I'm taking a break this week from the weekly meal plan post. With everything going on, prepping for meals has kinda flown out the window…at least at my house, they have. If you do need some ideas, I've included a link to the meal plans at the bottom of this post.
In place of the post, I decided to share some dessert recipes that are great for kids. They are easy enough for them to make ( with or without assistance) and fun enough for the enjoy.
Baking is a great way to keep them busy, spend some quality time with you and have an impromptu "homeschooling" lesson when it comes to reading, math, following instructions and much more.
A few notes:
Simply click the picture below and you will be taken right to the recipe.
If you wish to pin something..please do! Click the picture and go through to the original post, then, pin it from that original source.
Enjoy-
Plenty of dinner ideas to checkout!
Recipes made (with some assistance) by my youngest..a true lover of baked goods.