Cinnamon Apple Cobbler– Apples and cinnamon. A classic combination loaded into a a classic dessert: cobbler!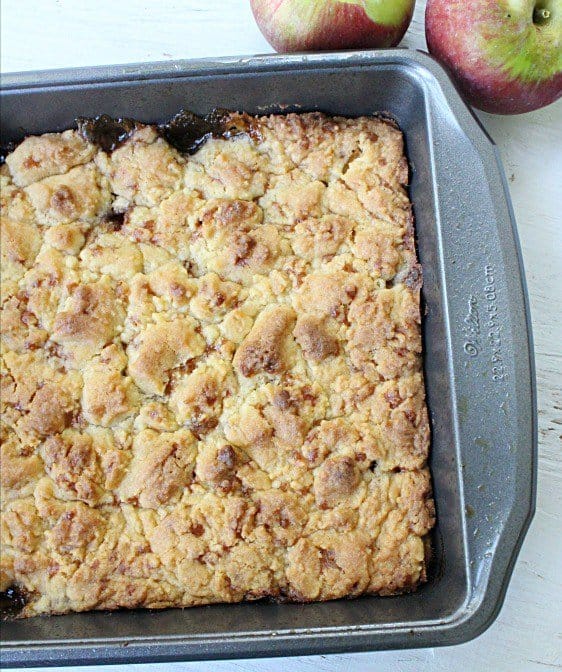 As previously mentioned, just a few weeks ago, we took the kids apple picking.
While we didn't come home with any apple cider doughnuts that day, we did come home with approximately 500 million apples. Give or take.
We've been loving them, but, yeesh. So many apples! 🍎🍎🍎
With this apple overload, I decided to, of course, bake with a few of them and made some darn amazing cobbler.
This cobbler has a nice shortcut too. Muffin mix. Yes, hear me out.
Your base is pretty standard..it's apples, brown sugar, cinnamon, flour and cinnamon. But, your topping is a little different. It's starts with two boxes of apple cinnamon muffin mix. For mine, I used two 7 oz boxes of Jiffy Mix Apple Cinnamon Muffin Mix (No endorsement, I just like them, but, it is an affiliate link)
You can use whatever brand you prefer. Just pay attention to the size of your package. You may need two or you may need just one, it depends how what brand/size you decide to use.
After mixing your topping and baking..please, let the cobbler cool down before serving! Those apples are hot. Really hot! Just be careful, friends.
When you are ready to eat, don't forget the vanilla ice cream and of course, some gooey caramel sauce.It's makes this classic fall dessert even better.
Go grab some apples and get to bakin' this Cinnamon Apple Cobbler! It's just too good to pass up.