Soft, pumpkin bars loaded with chocolate chips…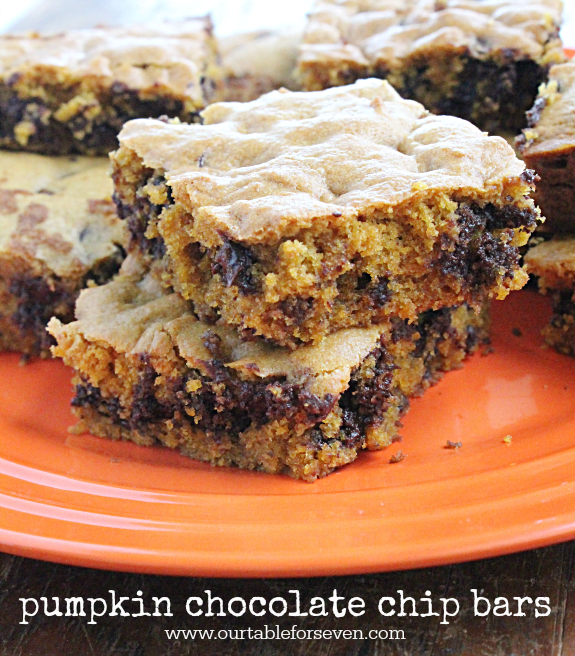 Before I was a food blogger, pumpkin wasn't something we ate much of. Sure, we had pumpkin pie at Thanksgiving, but, that was about it.
Now? Every fall, my 9 year old bombards me with questions..where is the pumpkin desserts? The kid is totally hooked on it. Asking for pumpkin everything. However, I confess. I'm kinda hooked on it too. Especially anything with pumpkin and chocolate. What a wonderful combination.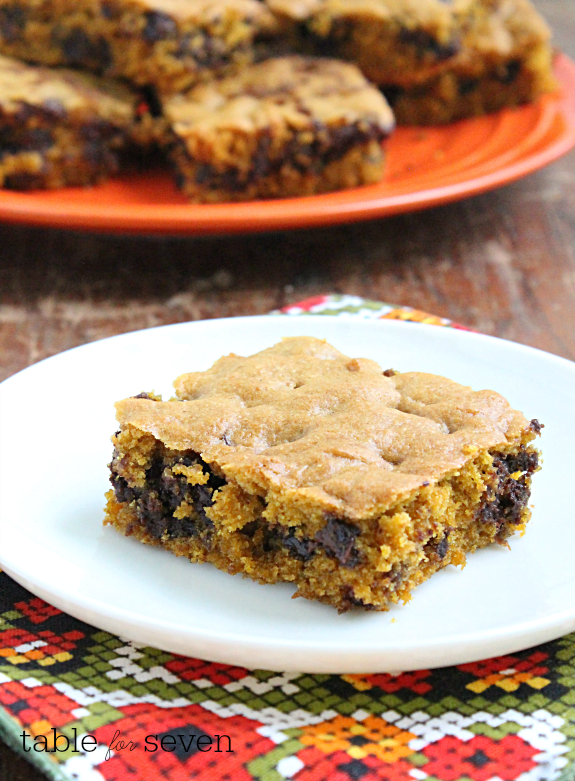 These bars are just that wonderful combination..pumpkin and chocolate!
They are a soft, cake-like bars with a great pumpkin flavor and they packed with chocolate chips. Even if you are not a pumpkin-person, you will love these. Trust me.
If you are looking for a great,easy, go-to-pumpkin dessert for the fall and holiday season, you have found it here. Classic chocolate chips with just the right amount of pumpkin flavor.
Get a cold glass of milk and dig in!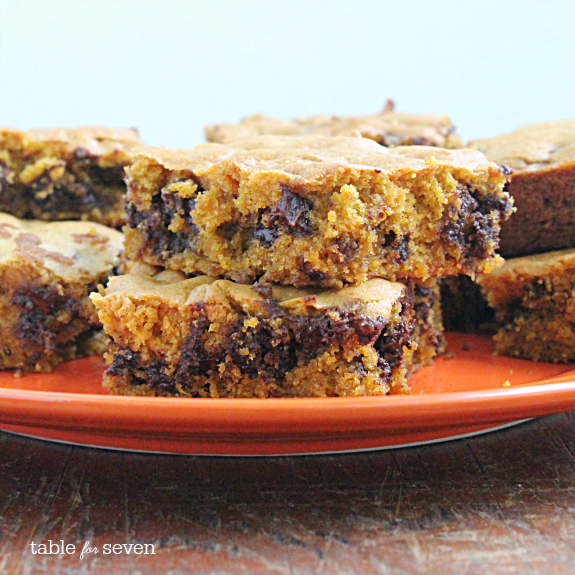 Pumpkin Chocolate Chip Bars
by Table for SevenPrep Time: 00:20Cook Time: 00:30
Ingredients (Serves: 8-10)
2 cups flour
1 tsp ground cinnamon
1 tsp baking soda
1/4 tsp salt
1 cup ( 2 sticks ) butter, softened
1 egg
1 cup pumpkin puree
1 1/4 cup brown sugar
1 tsp vanilla
1 1/2 cups chocolate chips
InstructionsPreheat oven to 350 degrees. Grease a 9 x 1 3 baking dish.In a bowl, whisk together flour cinnamon, baking soda and salt. Set aside.In a mixing bowl, beat together
brown sugar
and butter. Add in pumpkin, vanilla, and egg. Mix well.Mix in flour mixture and beat until just combined. Fold in chocolate chips.Spread batter into prepared pan.Bake 30-35 minutes.Let bars cool before cutting.