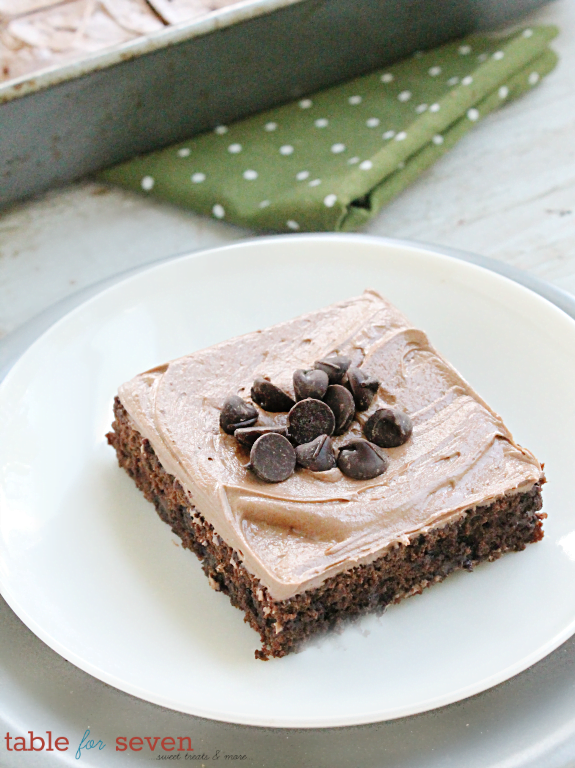 Yay! Zucchini Brownies! Fudgy brownies made with zucchini and topped with a dreamy, whipped chocolate frosting!
This summer, for the first time, we are involved in a local CSA.
If you are unfamiliar, a CSA is a way to purchase shares of vegetables from a farm in your area. Anyway, it's something we've wanted to do in the past, but, haven't had a chance. The ones in our area fill up rather fast or they cost a small fortune to enroll.
We were finally able to sign up at a local farm in our area a few months ago. The sign up cost was in our budget and it's really close to home. We get a dozen farm fresh eggs and a variety of veggies every two weeks.
It's been so great.
We all get to try out some new veggies (turnips were not a hit!) and I don't have to worry about buying them at the grocery store. Everything is local and fresh. I'm so glad we did it.
The past few weeks, our CSA box has been overflowing with zucchini and squash. I've been making casseroles, bread, muffins and now, brownies.
My friends, these Zucchini Brownies are really fabulous. Fudgy and ever so chocolaty.
Oh, and the frosting? Um..it's heavenly. It's so fluffy and it's so easy to make. Too easy. You may just want to make the frosting all by itself and eat it with a spoon.
If you have a good batch of zucchini in your kitchen, this is the perfect way to use it!
Enjoy-