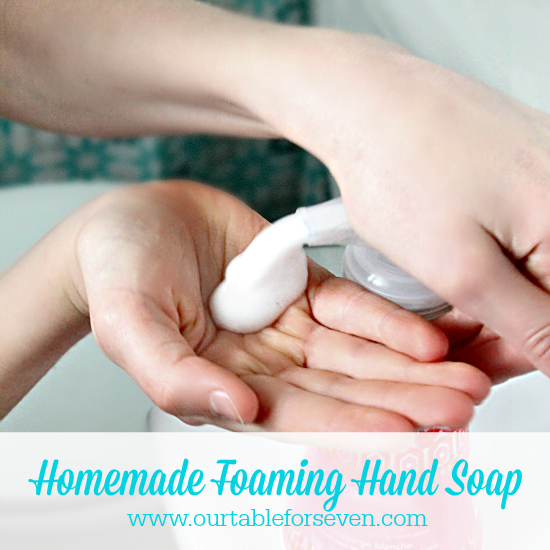 Happy Friday Friends. Are you looking forward to the weekend as much as me? Whew. What a week. Even though it was super nutty, the weather was amazing. The temps around here have actually been over 70 degrees!
Lovely.
OK, after thinking about it, I decided having the Out of the Kitchen posts on a completely different site was pretty silly. It was just adding an additional step for everyone and who needs that? Not me either. Therefore, they will just be posted right here at the blog. You can still access the Out of the Kitchen site for any previous posts or a permanent index has been added to the page tabs right under my blog name.
Not that we have that out of the way, let's talk soap.
Have you ever made homemade soap? I've made laundry soap in the past (which is great), but, not much else. '
Well, that is, until now!
After going through what seems like gallons of foaming hand soap, making it seemed like a pretty good decision. This is going to sound weird, but, it's really great stuff. I know, soap. Who would of thought? Anyway, you can make it really quickly and it will save you some cash in the meantime.
First up, you will need a dispenser. I used a empty leftover pump (16 oz) that we had just finished up. You can buy new ones if you like, but, save yourself the money. Re-use what you have.
Then, the rest is castile liquid soap, Vitamin E oil and tea tree oil. That's it!
Some of these items are a bit pricey. However, you are using just a small amount of them and they will last you a while.
HOMEMADE FOAMING HAND SOAP:
Fill up you soap dispenser with water about 1/2 way. Make sure not to add soap first.
Add in 3-4 TBSP of your castille liquid soap.
Add in 1 tsp vitamin E
Add 5-10 drops of tea tree oil
Cover and shake.
You now have foaming hand soap. Mine is kinda boring and not scented. But, you can add a few drops of lavender or peppermint oil to give it a pretty smell. The castille soap also comes scented.
Have a great weekend everyone!
THIS POST CONTAINS AFFILIATE LINKS. SEE
DISCLOSURE
.