April 9, 2014
Sweet and simple Lemon Snack Cake topped with a creamy, dreamy vanilla frosting!
Let's talk about something completely insignificant in the real world: my inability to take photos of any type of white cake. Or just hashtag: #foodbloggerproblem. It's a real thing! In a span of two days, this cake for photograph approximately 600,00 times (or somewhere close to that).
I moved this cake from room to room, changed it's position, blocked light, let in more light and changed every manual setting on my camera. Changing the plate was an option, but, darn, if I could find anything but white around here. What's up with that?
Anyway, even though the picture ( yes, just one looked pretty good..argh!) is mediocre, the cake isn't.
It's a light, lemon cake that's easy to whip up for your springtime parties.
But,enough about the cake thought..let's talk frosting! This is seriously the best frosting ever and requires zero powdered sugar. It's a gem that was found over at Tasty Kitchen.  Once you have this frosting, you will not, make any other frosting again. It's light, smooth and not overly-sweet.
It's dreamy. 😍
Make it and frost something..anything. Oh..don't forget to make the cake for spring too! 😉
linking up and weekend potluck
Print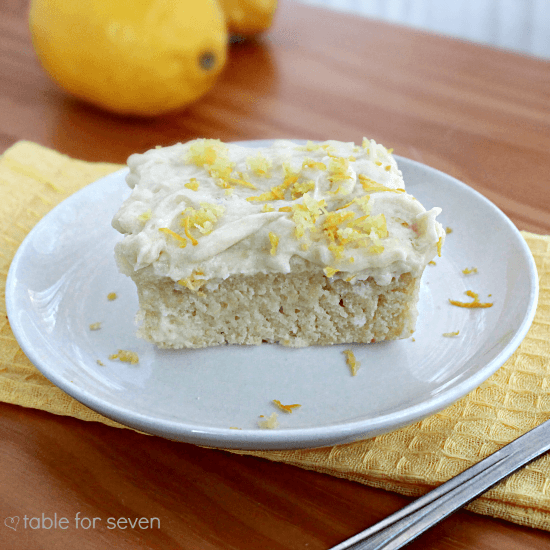 Lemon Snack Cake with the Best Vanilla Frosting Ever
Author:

Prep Time:

00:30

Cook Time:

01:00

Total Time:

1 hour 30 minutes

Yield:

9 generous pieces
---
Description
A light, lemon cake topped with a dreamy vanilla frosting..no powdered sugar needed!
---
Ingredients
FOR CAKE:
1 1/4 cups flour
1 cup sugar
1 1/2 tsp baking powder
1/2 tsp salt
1 egg
2 tsp lemon zest
1/4 cup butter, melted
3/4 cup milk
if desired, for added lemon flavor, add 2-3 TBSP lemon juice
FOR FROSTING:
5 TBSP flour
1 cup milk
1 tsp vanilla
1 cup butter, softened
1 cup sugar (granulated, not powdered!)
---
Instructions
FOR CAKE:
Preheat oven to 350 degrees. Spray/grease and 8 x 8 baking dish.

In a mixing bowl, whisk together flour, salt, sugar and baking powder.

In a separate bowl, mix milk, egg, butter and lemon zest. Slowly add dry ingredients into wet ingredients and mix until combined.

Pour into prepared pan and bake for 30 minutes or until knife inserted comes out clean.
FOR FROSTING:
In a saucepan, whisk milk and flour over low heat. Continue stirring until mixture is very thick.

Remove from heat, add in vanilla. Let it cool completely.

In a mixing bowl, cream butter and sugar until fluffy.

Add in cooled flour/milk mixture.

Beat mixture until fluffy and resembles whip cream. This took me about 10 minutes with my stand up mix

Frost on cooled cake.
---
Notes
the amount of frosting in this recipe is about double you will need for this cake.  So, cut the recipe in half or you can store leftovers in your fridge
cooking time includes making frosting
Keywords: cake, lemon, lemon cake, dessert, frosting, vanilla frosting