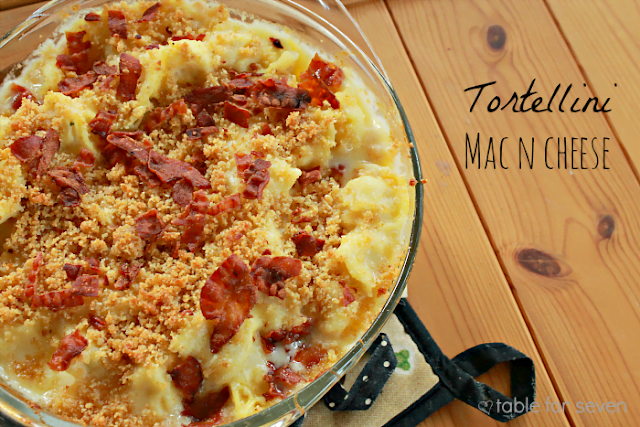 I am so very excited to share this dish with you.
It was something that we had last week and it's pretty much heaven in a dish. Cheese, pasta, bacon, crunchy, buttery breadcrumbs….need I go on? OK, I will.
It's one of the dishes that once it's gone, you are sad and then, happiness fills your life again the next time you make it. Yes, seriously! It's quite delicious.
It's a little bit of a twist from your ordinary mac n cheese,which is the ultimate comfort food, right? I think so, too. Instead of your elbow macaroni pasta, this dish has tortellini.
The flavor of the tortellini is completely up to you. Ours was packed with the three cheese variety, but, ricotta, spinach or a sausage flavor would work great too.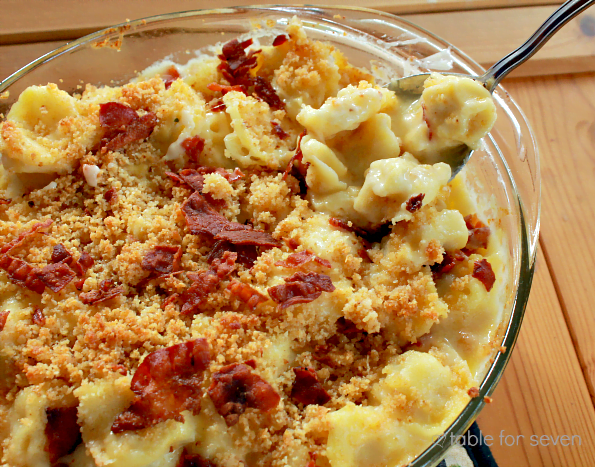 It's a great way to get out of that ordinary mac n cheese rut you know that you've been in.
Please make this very soon! Happiness will in fact, fill your life.
Tortellini Mac n Cheese
Prep Time: 00:25
Cook Time: 00:30
Ingredients (Serves: 6)
16 oz frozen tortellini, three cheese (any flavor you prefer)
FOR CHEESE SAUCE
3 TBSP butter
4 TBSP flour
2 cups white cheddar cheese, shredded
1 cup milk
1/2 tsp garlic powder
1/2 onion powder
FOR TOPPING
2 TBSP melted butter
1/2 cup bread crumbs
1/2 grated Parmesean cheese
3-4 slices cooked bacon, crumbled
Instructions
Preheat oven to 350 degrees. Spray a 8 in baking dish with non stick cooking spray
Prepare tortellini according to package directions. Drain. Set aside.
In a saucepan, melt 3 TBSP butter. Add flour, garlic powder and onion powder. Mix until combined.
Add milk. Cook on medium heat until bubbly. Once bubbly, reduce heat to low and cook until mixture thickens.
Stir in cheese and let it melt slightly. Remove from heat.
Mix cheese sauce with tortellini. Pour into prepared baking dish.
In a small bowl, combine bread crumb, 2 TBSP melted butter and Parmesan cheese. Mix until well combined. Sprinkle over tortellini.
Sprinkle bacon pieces over bread crumb mixture.
Bake for 25-30 minutes or until top is browned.