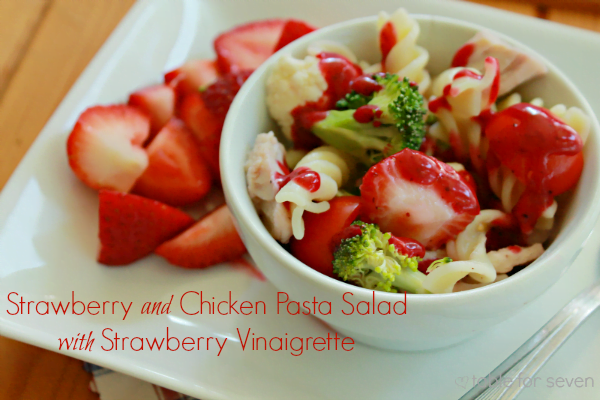 A cold pasta salad loaded with fresh, sweet strawberries, plus, chicken! Top it off with a tangy and sweet vinaigrette dressing for the perfect lunch or warm weather dinner.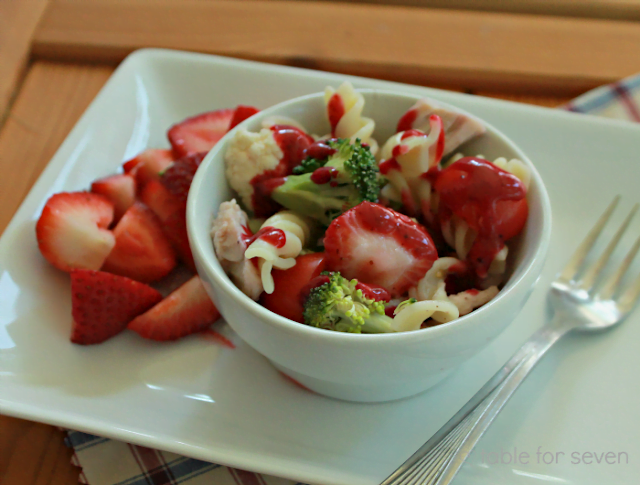 Happy Sunday Guys-
I am so very happy to be joining this week's #SundaySupper group! The theme this week is Lunchbox and our lovely host is Liz at That Skinny Chick Can Bake!.
Last week, I shared some great, quick Monte Cristo Bites that would be perfect for you lunchbox. My goal is make more than just peanut butter sandwiches for my school lunches this year.
I'm thinkin' this salad is a step in the right direction. 🙂
This salad is packed with cold veggies chicken, strawberries and pasta (some of my kids favorite foods). Then, it's paired up with a nice, sweet strawberry vinaigrette dressing.
Just a small note:
-The dressing is totally optional with this salad. It does taste incredibly delicious, but, if you have some non-dressing eaters in your family (I have many!), then, the pasta with the strawberries and veggies is great healthy alternative. Especially, with whole wheat pasta.
What's in your lunchbox this week?