August 14, 2013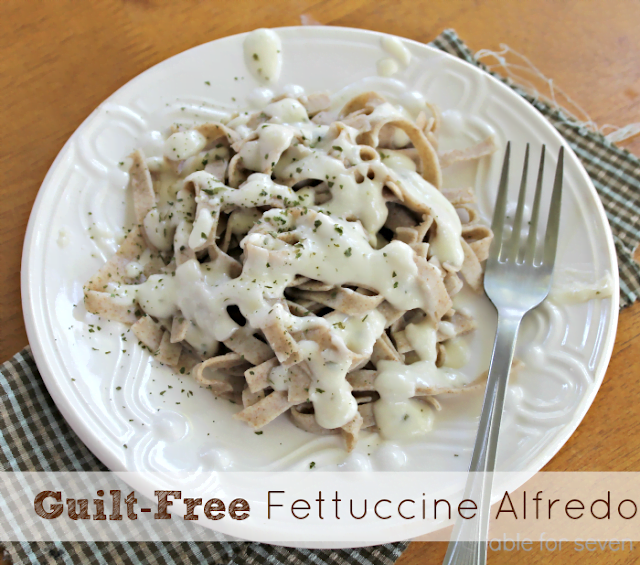 Did I tell you what happened the last few days?
Probably not, seeing that I didn't post any new recipes last week and we don't know each other in the outside-the-Internet world. There is a reason for that, the no-recipe part. Two reasons to be precise.
First..we were on vacation. We got away and out of town with the kids for an end of the summer adventure. It was fabulous. The kids had a great time, we had a great time. It was just what we needed.
By the way, did you catch the great guest posts from Angie & Karly? They were kind enough to supply a few tasty dishes for you guys while I dined on vacation food (take out pizza) and stayed out of my kitchen for a few days. If you haven't, check them out. They are not to be missed.
So, my second reason is me. I kid you not, there were 5 potential recipes slated for this week. Five! Four were recipe fails. Too much caramel in some homemade ice cream. Who wouldn't thought too much caramel would be a bad thing? Burnt pancake and very disgusting sauce that was suppose to top them, some beautiful pictures of cherry chip cake with no recipe to be found anywhere and my favorite..popcorn that melted when it was topped with a very yummy, but, apparently too hot, maple glaze. Whew!
This was my number five.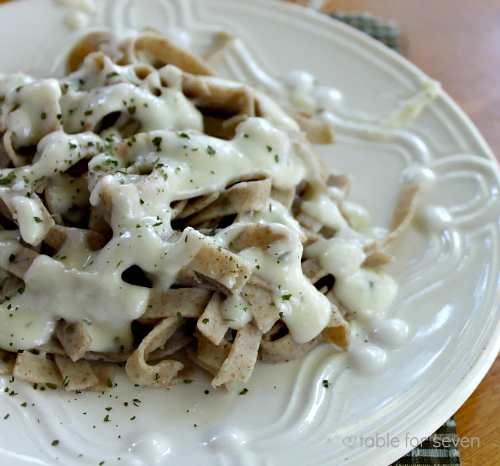 You may ask yourself..doesn't she have an Alfredo recipe on the blog already? I do.
It's so very incredibly delicious, my 11 year old wants to eat it by the bucket-fulls. OK, so, do I 🙂
However, when we got back from vacation, I also started back on Weight Watchers. It's been a fun summer, but, also, a bit much on my waistline. Which, in short, will bring us to some Guilt-Free Fettuccine Alfredo.
Less calories, some whole wheat and very, very, yummy. You won't miss the cream or the calories.
Enjoy!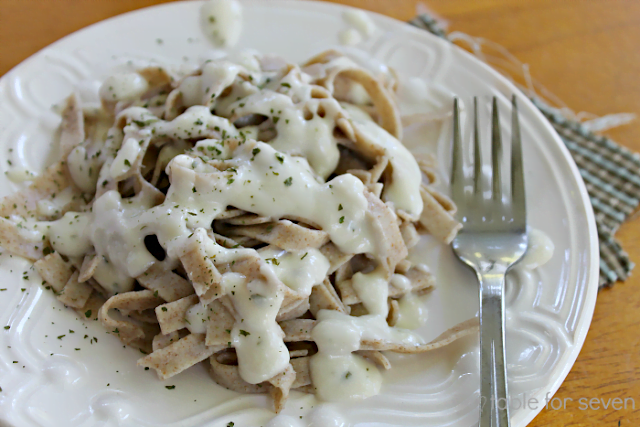 Guilt-Free Fettuccine Alfredo
Prep Time: 00:05
Cook Time: 00:15
Ingredients (Serves: 6)
2 cups skim milk
3 oz low fat or fat free cream cheese
1 cup grated Parmesan cheese
3 TBSP flour
1 tsp garlic powder ( or more depending on your taste preference)
1 TBSP salt free butter
whole wheat fettuccine noodles.
Instructions
Prepare pasta according to directions on package.
In your blender mix milk, cream cheese and flour. Blend until smooth.
In a saucepan melt butter over low heat, then, add garlic powder.
Add milk mixture into saucepan. Stir constantly until it thickens.
Once thicken, remove from heat and stir in cheese. Cover and let it sit for 10 minutes.
Serve over prepared pasta.
Adapted From Our Best Bites