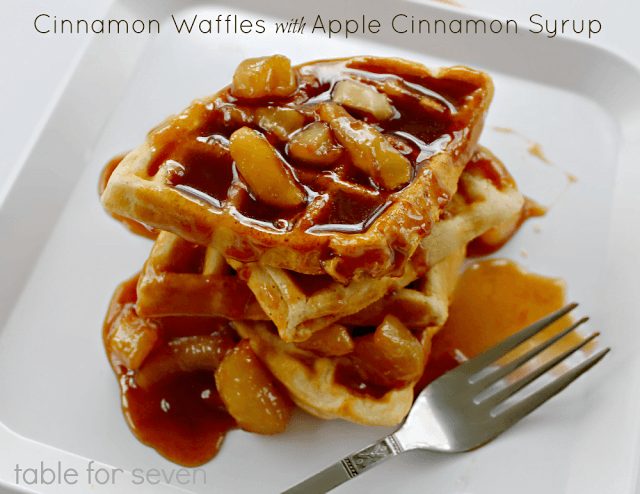 Fluffy waffles made with cinnamon and then, topped off with a delicious apple cinnamon syrup. An amazing twist to your basic breakfast.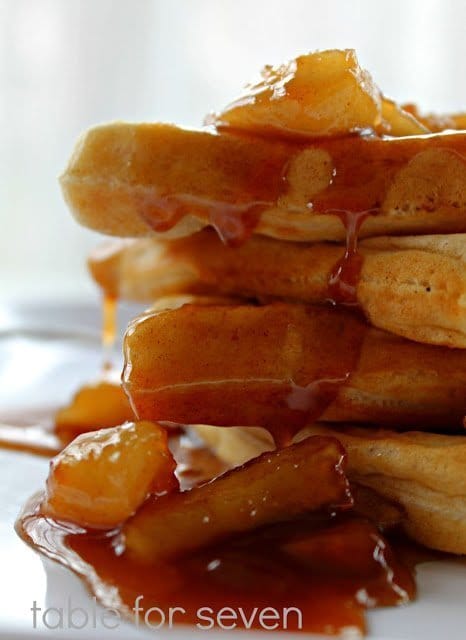 Breakfast is served!
Now, did we eat this? Yes. We loved it.
However, the over-load of syrup is purely for dramatic-photo-grab-your-attention-kind of thing. 😉
Mr Plain is the primary waffle maker at our house. He is also in charge of pancakes, french toast, brownies and boxed mac n cheese. So, yep..he made these.
The syrup was my doing (he doesn't like syrup, you know..the whole plain thing) and, it is amazing. The apple-cinnamon sugary syrupy combo is positively sinful.
But! These waffles also go great with regular syrup, powder sugar, apple and of course..plain, because, remember, that's how some of the waffle makers in my house like them.
Not me, of course, I did drench mine if syrup and was very content to do so.
A small side note:
—You probably don't want to cook these up on a Tuesday morning and head out the door. You could, if you like. But, health-wise, I'm not sure it's a good idea. These would be perfect for a special brunch or breakfast, say, like, how about Mother's Day? Yes! Make these for your mother. Or have your mother make them for you. Or somebody else's mother..or aunt or neighbor.
Whatever works..just make them. 👍