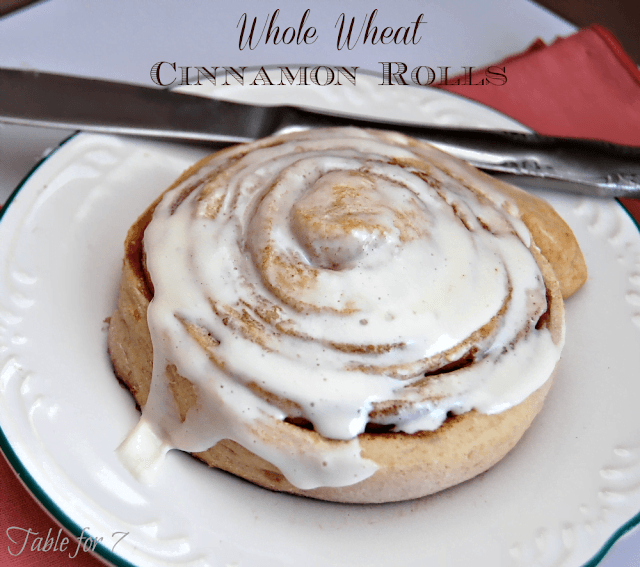 These, have zero vegetables in them. But, they have some whole wheat. That makes them good for you, right?
These minis have been our cinnamon roll go-to recipe for a while now. But, these are my first attempt at homemade-from scratch cinnamon rolls. OK, technically, second. The first batch of these was a bit too"wheat-y" for my taste. So, for the second batch, 1/2 of the wheat flour was sub for regular, all purpose, white flour. Much better and softer texture.
A very yummy treat for breakfast, but, sorry..no veggies. 🙂
Whole Wheat Cinnamon Rolls
by Table for SevenPrep Time: 02:00Cook Time: 00:20
Ingredients (Approx 10-12 rolls)
FOR DOUGH
1 cup plus 2 TBSP warm milk
3 TBSP melted butter
2 eggs
1/2 cup sugar
2 cups whole wheat white flour
2 cups all purpose flour
1 TBSP yeast
FOR FILLING
1/2 cup brown sugar
2 TBSP melted butter
sprinkle of cinnamon
FOR ICING
1 cup powder sugar
1 TBSP milk
1 tsp vanilla
InstructionsPour dough ingredients into your bread machine according to manufactures directions, Select 'dough' cycle.Once cycle is complete, roll out into a large rectangle. Brush dough with melted butter. Sprinkle with
brown sugar
and cinnamon.Roll tightly and cut into 3/4″ slices.Preheat oven to 325 degree. Grease/spray a large baking sheet.Place rolls on prepared sheet and bake 20-25 minutes or until light brown.Mix icing ingredients until smooth, then, frost/drizzle on warm rolls.