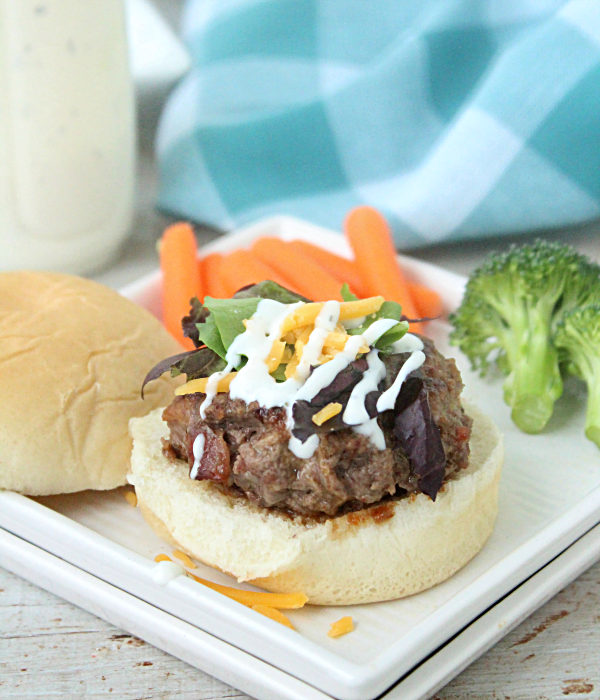 Flavorful burgers filled with cheese, bacon and ranch dressing..all made in bite size!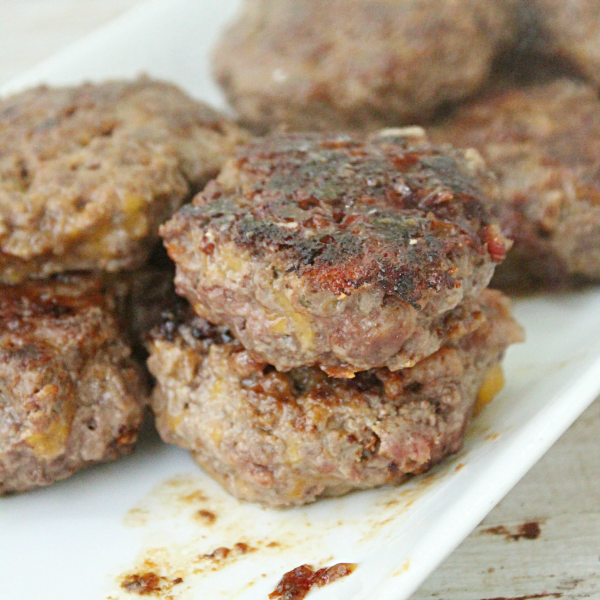 When we have burgers for dinner, I usually make them into "slider" form.
If you aren't familiar with the term, a slider is just another name for a smaller size burger or kinda a mini version of a burger.
They are quicker to cook up than a regular size burger and honestly, kid friendly size. Even though my kids are getting bigger, they like their burgers in a two to three bite size. It just seems to work for us.
These mini burgers are my personal favorites, though. 🙂
Here is a breakdown:
1. You start with ground beef or ground turkey. If you are making them with ground beef, be sure to chose a lean version.
2. Next, mix in ranch dressing. You can chose your favorite bottled version or homemade will work too. Our favorite bottled version is Bolthouse Farms.
3. Mix in your cheese. We usually go with a sharp cheddar variety, but, regular cheddar, Colby jack or a taco blend goes great with these too.
4. Next, bacon! Again, a turkey version will work fine. If you want you cheat a little and go with pre made bacon bits.
5. Form the meat into approx 8-10 small patties. If you don't want a slider, you can make these into normal size burgers. It should make about 4 patties. Just be sure to adjust your cooking time.
6. Cook each slider 3-5 minutes on each slider or until no longer pink. Remember..your cooking time may vary, depending on the size of your sliders.
7. Top off your burger with cheese, more ranch, more bacon, lettuce, tomatoes, whatever topping you like or heck, leave them plain!
These Bacon Ranch and Cheese Sliders are packed with lots of flavor and eating them just by themselves is a also a delightful experience!
Enjoy-