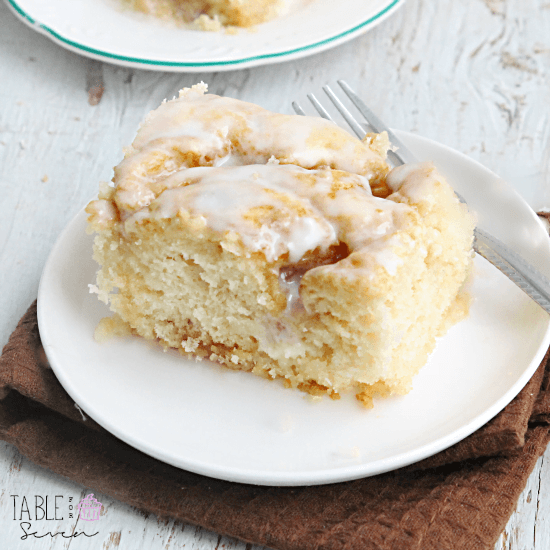 All the flavors of a cinnamon roll in this crazy, delicious cake!
It's been about a week or two since we've been back to our new schedule.
My husband is back to work and the kids and I are back to our daily routine. The three blissful months of summer made me forget how tough it is to get back into a schedule again.
Don't get me wrong..our homeschooling schedule is pretty relaxed. But, trying to balance just having them at home with household stuff and blog stuff can be a challenge.
To put it bluntly..I'm zonked, pooped and just plain zapped. Tell me that I'm not alone in this, guys! How is your end of the summer/beginning of school year doing?
Also, I screwed up every new recipe that was intended for the blog this week hasn't helped either…who knew that fruit salsa would be so awful?! Ugh..so yuck.
Keeping my fingers crossed the dessert in my fridge is a success and next week is smoother.
For now, we have Cinnamon Roll Cake!
This darling cake was originally shared in 2012, but, I took some new pictures and decided to give it another posting. As for new postings…do you guys mind them? I know that this year, I've done quite a few. For me, I like doing it. It gives me a chance to give really old posts a new life and share them with a new audience. So, please let me know your thoughts!
OK. the cake…
This cake is amazing. Amazing! It has all the great tastes of a cinnamon roll packed into your cake. Even topped off with dreamy glaze. You can do this for dessert or it's a great addition to brunch.
We love this served warm, right from the oven. So good.
Yum.