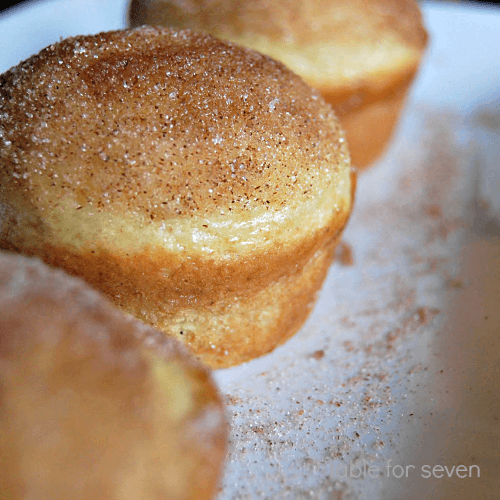 We love muffins in our house. Love them!
My kids favorite are Chocolate Chip with Ricotta Cheese. Well, they are a favorite of mine too. But, as tasty as those are, we are looking for a new muffin around here. Mix things up. I know, we are wild and crazy.
This simple, lovely, muffin is what I decided to try out. I liked these because they appealed to all my picky children and the ingredients are always on hand in my kitchen.
These are light, soft and the buttery cinnamon top is to die for. Come on! Make these the new muffins in your house too.
French Breakfast Muffins
Please note:
this recipe makes just 6-8 muffins. If you want the standard 12, you will have to double the recipe.
Ingredients
FOR MUFFINS:
1/3 cup butter, melted
1/2 cup sugar
1 egg
1 1/2 cup flour
1 1/2 tsp baking powder
1/4 tsp nutmeg
1/2 cup milk
FOR TOPPING:
1/2 cup sugar
1/2 cup butter, melted
1 tsp ground cinnamon
Instructions
Preheat oven to 350 degrees. Grease a muffin pan or line with cupcake papers.
In a bowl, whisk together flour, baking powder and nutmeg. Set aside.
In a mixing bowl, beat butter and sugar until combined. Add in egg and milk. Mix until fully combined.
Gradually, add in flour mixture and mix until just combined. Don't over mix!
Spoon batter into prepared pan. Bake for 20-25 minutes or until they are golden around the edges. Let muffins sit for 5 minutes before removing from pan.
FOR TOPPING:
Mix sugar and cinnamon together in a bowl. In another bowl, add melted butter.
Dip warm muffins in melted butter, then, in cinnamon sugar.
Yield: 6-8
Prep Time: 00 hrs. 15 mins.
Cook time: 00 hrs. 20 mins.
Total time: 35 mins.